A pretty packed week for comic book releases, this fourth week in November has more than enough to keep you occupied while you wait for Thanksgiving dinner.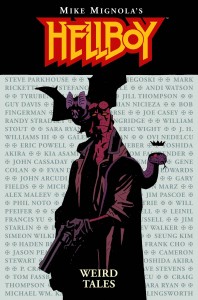 First off, I'm a huge Hellboy fan, so of course I'm going to mention the new hardcover book out from Dark Horse Comics. The collection of stories included here has something for just about anyone too, with spaceships, demons galore and more, so if you're a Hellboy fan (or dig B.P.R.D. and Abe Sapien), try not to miss out. There's a good number of tales here too, since the tome collects Hellboy: Weird Tales volumes 1 and 2, though if you've already read those books, this definitely is not a required addition to the old bookshelf.
Also in shops this week is the first issue of Gotham by Midnight from DC Comics. This first issue of the new ongoing series from DC delves into Gotham City's more mystical side and follows Jim Corrigan (also known as the Specter) as he hunts down some high-strangeness in the city of the Bat.
And then there are the continuances of the 'big arcs' that are happening in comics at the moment. DC has new issues of Red Lanterns (which continues GodHead) and World's End in storms,  while Marvel has new new Edge of the Spider-Verse crossovers on the racks along with even more Axis books.
It's a big week, and that's not even all that there is to highlight. Have a look below for more of what I'll be picking up this week and then hit this link for the Previews website to see the full list of what's on the way for this coming Wednesday, November 26th.
Marvel Comics
All New Ghost Rider #9 – Jonny Blaze (the original Ghost Rider) guest stars.
Nova #24 – Nova takes on the Hulk in this Axis crossover.
Scarlet Spiders #1 – No less that three Scarlet Spiders take to the multiverse to try and stop baddie Morlun in this Spider-Verse crossover.
Wolverine and the X-Men #24 – Axis rears its head once again for an issue focusing on Quentin Quire, Storm, and a series of events that Marvel promises will change the school "forever".
DC Comics
Catwoman #36 – Selina Kyle has to maintain her role as head of the Gotham underworld while dealing with… Catwoman?
Deathstroke #2 – Slade is not a happy camper after finding out his memories have been messed with. Terrific art in this one too.
Gotham by Midnight #1 – see above
He-Man and the Masters of the Universe #19 – Adam's past is explored, including the original insurrection against the throne by Skeletor. It's a lead infer Eternity War (the new MotU series coming next month) so probably not one to be missed here.
Red Lanterns #36 – see above
Superman #36 – Superman and Ulysses' alliance is tested and his powers are about to mysteriously change…
Dark Horse Comics
Hellboy: Weird Tales hardcover collection – see above
Aliens : Fire and Stone #3 – It's desperation time for the survivors of colony LV-223.
IDW
G.I. Joe #3 – Cobra is on the march and the Joe team is falling apart with a possible traitor in their midst – Duke.
TMNT/Ghostbusters #2 – This bizarre (and fun!) crossover continues with a possessed Casey Jones.
X-Files: Year Zero #5 – The origin story of the X-Files themselves comes to a close with more weirdness.