It's GOG, so you know this is going to be good.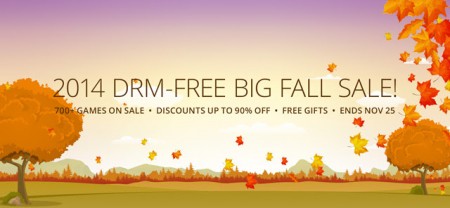 In the market for some big time deals? Well, that's good my friend as one of the biggest gaming retailers online is having one of it's mondo-monster sales. The 2014 DRM-free Big Fall Sale begins now and carries some deals that you're not going to want to miss out on with it. Over 700 games are now on sale at up to 90% off the usual asking prices.
Two daily bundles will also be posted, starting with a Mount & Blade pack and a D&D Collection that are both up for grabs at insanely low prices right now. There's also a series of flash sales that'll be hitting every 40 minutes around the clock on some big names including Rise of the Triad and Mark of the Ninja. Now all of that's really cheap, but what if you don't feel like spending anything? Well, Mount & Blade is a complete and total freebie right now (and will be into tomorrow) and The Witcher 2: Assassin's of Kings is totally on the house if you're a returning customer.
Actually, so is the movie (did you know GOG sells movies now?) The Gamers: Director's Cut. See, it pays to be a GOG customer. The site is a favorite retailer around BG land and there are some very big reasons; namely that they stock great games and their sales are phenomenal. Get in on the savings by clicking here.