Based on the one and only best selling game of the same name, Super Mario Bros are two Brooklyn plumbers, who find themselves in a bit of and unusual situation.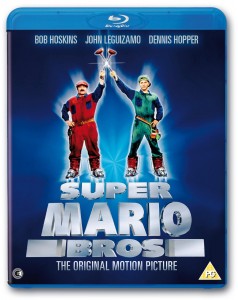 Set in the early 90's, the two hapless brothers are working as plumber in down town Brooklyn. Down on there luck, missing out to another plumbing firm for a job, they bump in to a pretty blonde waiting to use the telephone. In a whirlwind of a romance, Luigi falls head over heels in love with the girl, who happens to be none other than Princess Daisy!  Finding out we are all the descendent's of intelligent dinosaurs, who still exist in a alternate dimension, hell bent on breaking through in to ours, led by the infamous King Koopa and his Goombas, the loveable brothers must risk it all to cross over to this 'other realm' and save the princess, to stop the ill fate Koopa has planned for us all.
We first meet the brothers in their small apartment, with Luigi sat down in front of the TV, Mario gets a call with news of a potential job offer and they immediately leave. Luigi takes a so called short cut to the job, only to arrive and see the job has already been taken by the rival firm in the city. Thev an they came in appears not to start, Luigi insists on making a call, only to be approached by a beautiful blonde who too needs to use the phone, Mario is tinkering away with the truck while Luigi allows Daisy to use the phone, He and Mario have a short discussion before they invite Daisy to join them for dinner that evening, Luigi bumbles awkwardly but his big brother swoops in and fills in the gaps. After dinner, Luigi and Daisy go for a walk, Daisy tells Luigi that she is an orphan and they bond over the fact. Daisy insists on taking Luigi to see her archaeological site, where she is digging for dinosaur bones and fossils. While Mario meets them to fix a broken water pipe, he and Luigi are knocked unconscious by a suspicious pair of men, Iggy and Spike. They flee with Daisy to a stone wall where they appear to jump right through it. Lugi at witnesses this, convinces Mario to jump through with him and rescue Daisy from the odd pair. And that is where the fun really begins.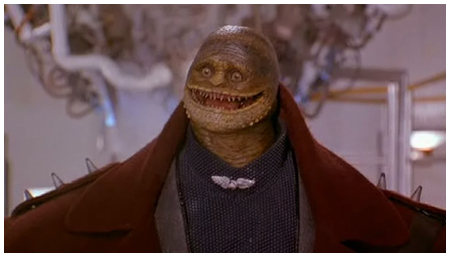 I haven't seen a game to movie adaptation like this one, ever. I mean the characters where so inventive in their design. It is a pretty tricky task taking such basic design and making it live action. My favourite characters by far though, were the Goomba, funny men or women I suppose, that have been 'De-evolved', seemingly sending them back generations in evolution. It sure did make them look cute though.  All in all it's a really cheesy, classic 90's movie, good fun for the family, and a great film to watch if you feel like having a laugh at some awful special effects.
Extras
Bonus features on the new release for UK are,
Original Electronic Press Kit
Making of
Behind-the-scenes/Storyboard Galleries
And a Brand new 60 minute documentary featuring new interviews with cast members and production staff, 'This Ain't No Video Game'.
Fans are sure to enjoy these features, giving a better insight into the movie, how it was made, and what the cast and staff think of it.
Final Thoughts
The overall film is so typical of the 90's movies you come across, and to Mario fans it has such a great appeal. Unfortunately, to some younger viewers the lack of high tech effects and the low tech costumes may not appeal as much as the recent releases. A loveable nostalgic movie, and definitely a family favourite in my household. Mario is world renowned, and this film showing us the original rescue mission really does show us why we loved Mario from the start.