Square Enix once again had an incredible display of their action figures on display at Comic Con last weekend in NYC. The video game and DC Comics figures they have scamming up are pretty awesome and the new Marvel Comics line is shaping up nicely!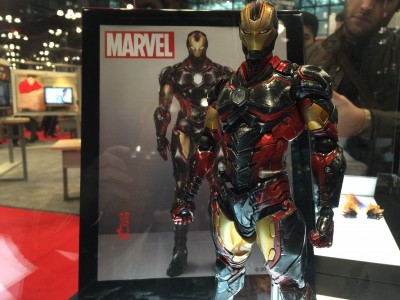 I'm used to seeing awesome stuff come out of Square Enix when it comes to their Play Arts Kai series of collector quality figures. They've been pumping them out for some time after all and kind of know what they're doing with them by now (actually, they did from the very start). Personally,  I collect their DC offerings and have a few one-offs like the Jack Skellington figure from Kingdom Hearts. It's awesome stuff and I can't wait for the Hawkman variant,  which should be coming up sometime soon.
What I saw at the con though, was something of a surprise as I had no clue they had secured the Marvel license as well! So now, not only do collectors have the A-list DC pantheon to buy, but the Marvel one too as variations on Spider-Man and Iron Man are already in the prototype stages, and man do they look awesome. Also pretty awesome? The new Metal Gear, Assassin's Creed, Halo, and that glorious Final Fantasy VII series.
If you're a fan, you're gonna want 'em. That simple.
Have a peek at what's coming up in the gallery below and then start saving, these things ain't cheap you know?