You've probably heard about the phenomenon that is the zombie mashup Life After Archie, well now everyone's favorite small town teens have got another problem. A big, reptilian problem who likes to go hunting.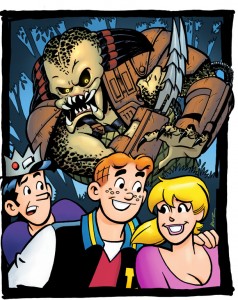 Not taking place in the quaint little town where Archie and his pals live, Archie meets Predator in the tropic paradise that is Costa Rica. Seems that the gang heads down south of the border for a little spring break fun, but end up being stalked by the ruthless hunter that's become a fan-favorite movie monster since he went up against Arnold Schwarzenegger back in the '80s.
Does that sound weird? Oh yes, but it also sounds like it might be a ton of fun.
"In the grand tradition of Archie Meets the Punisher and Archie Meets Kiss, we're unbelievably excited to partner with Dark Horse to show what happens when the Predator comes to Riverdale," said Archie Comics publisher/co-CEO Jon Goldwater. "It's going to be a surprising, energetic, and must-read series, and we're so glad Alex de Campi and Fernando Ruiz are joining forces to tell this off-the-wall story."
Holy crap I forgot all about Archie meets Punisher! There is something about these Archie crossovers that just 'works' though, as oddball as they are. My biggest question about this one is that I'm wondering if it's going to be, um… overly-violent, or if the Predator will be Archie-fied to some degree.
We've got a little ways till we find out as Archie meets Predator isn't scheduled to hit the racks till April of 2015.