Snake Eyes will be on his own in 2015 in his first solo book from IDW, well maybe not completely on his own- he's got his new Cobra pals to keep him company.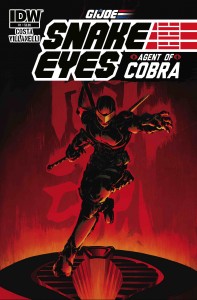 Yeah, you read that right, Snake Eyes is joining Cobra in his new book Snake Eyes: Agent of Cobra (see, it's right there in the title). The 2015 comic sets the former Joe on the wrong side of the tracks as he turns his back on the team and its new leader Scarlett.
"Snake Eyes has been gone from the pages of IDW's G.I. JOE books for almost two years, so his return alone would make for an incredible story," says series editor Carlos Guzman. "But Mike's idea to have him return on the side of Cobra begs so many exciting questions: What could cause Snake Eyes to join the enemy? How could Cobra convince G.I. JOE's most dangerous warrior to betray his unit? What will G.I. JOE do when they find out the ninja commando has returned… but is now an agent for the villainous organization? There was no doubt that the answers would make this series one of the best G.I. JOE stories ever told!"
Big words, as the Joe has been featured in some truly excellent yarns in both recent comics and the original run. Snake Eyes has always been a favorite of G.I. Joe fans though, so to see him turn 'traitor' should make for a very interesting read indeed. Of course, there may be some ulterior motives at work, but with the way Snake is, it's unlikely anyone on the Joe team or Cobra would catch onto that fact for a while.
"SNAKE EYES: AGENT OF COBRA is, without a doubt, the most exciting and action-packed story I've ever written in my six-year history with the G.I. JOE universe," said Mike Costa. "I wanted to take the dark psychology and intrigue that made G.I. JOE: COBRA so fun to work on, and graft it into the DNA of a big action movie, starring G.I. JOE's most iconic character. It's probably my ultimate G.I. JOE story, and it's really been fun to work on. I'd always tried to approach G.I. JOE: COBRA by asking myself "how could this get worse?" Well, Snake Eyes is working for Cobra. I think I've answered that question"
Costa previously worked on G.I. Joe: The Cobra Files for IDW and will be the regular writer for Agent of Cobra. As for the art chores, look for Paolo Villanelli to provide both the covers and the interiors. And as a special bonus for those who pre-order the first issue, IDW is prepping a special Drew Johnson cover for the occasion.
No release date as of yet on this one, but you can look for Snake Eyes: Agent of Cobra to hit the racks some time next year.