Always one to put on a solid showing, Valiant will be rolling into the Baltimore Con with the slate of events you'd expect.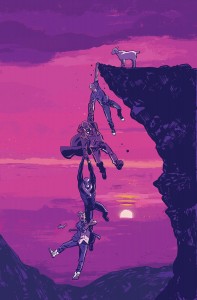 Charm City! Wait a sec, Baltimore is called Charm City? When did that become a thing? …Charm City! Valiant is coming for you with a pretty great list of signing opportunities, giveaways, and exclusive items.
The publisher has a special The Delinquents #1 Baltimore Comic-Con 2014 Exclusive Variant planned for the show, which you can pick up for yourself at they broth on the show floor, and that's not all. The Valiant: First Look preview will also be available at the booth, and as a nice little bonus, this one is free to grab.
First Look will go behind the scenes at the company for a peek at The Valiant, the mini-series that's on the way this December from Jeff Lemire, Matt Kindt, and Paolo Rivera. That's one heck of a lineup if I might add. You'll get "never-before-seen artwork, preview pages, and interviews", all inside this preview book. The final mini-series will figure in pretty much every hero in the Valiant U too, so you might want to grab a copy of this giveaway to keep track of what's going on.
In addition to the exclusive book and the freebie, you'll also be able to meet and get a signature from some of the company's best including James Asmus, Laura Martin, Rafer Roberts, Brian Reber, and Vivek J. Tiwary- so bring your autograph book and/or copies of some comics to the booth. Wrapping things up for Valiant in Charm City (I like typing it) will be a panel on Saturday the 6th at 1pm. This showcase will be discussing the future of some of the publisher's biggest books (X-O Manowar, Unity, Rai, Harbinger, Archer & Armstrong) with Valiant talent James Asmus, Ray Fawkes, Vivek J. Tiwary, Brian Reber, and Laura Martin, as well as company Editor-in-Chief Warren Simons and Chief Creative Officer Dinesh Shamdasani.
Lots to do and see in Charm City this September 5th through the 7th. Make sure you stop by Valiant's booth (#2008/2009) to get in on the fun.