Mega Man 6 arrives on the eShop Virtual Console and, for the first time, Disney Infinity is available for free download- you'll still need to invest in a few figures and a base to actually play though.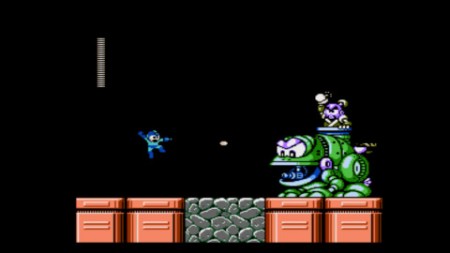 Now I'm digging Mega Month. I remember very little about the later Mega Man titles on the NES, so seeing 6 available for purchase is a happy moment for me. Of course it'd be a happier moment if there were, you know, a new Mega Man title happening anytime soon. Dare to dream.
Also this week, and pretty interesting, is the full Disney Infinity game. While this is the whole title in it's entirety, and it definitely is a free download, you do still need the base and some figures to do anything in it. So it's kind of like a backup I guess if you own the physical edition (or pick up some spare parts on eBay). Then again, if the base is compatible, you could also just use Disney Infinity 2's kit to play if you were planning on picking that up. The figures wouldn't work with the previous title, but you can still pick up older toys just about everywhere that stocks them.
And just a quick note that Life Force is on the VC this week for the Wii U as well. Kind of an underrated shooter as far as I'm concerned, this bad boy has all the gross out enemies that you'd expect form the genre and some very solid gameplay too. Worth a look at least.
Nintendo eShop on Wii U

Disney Infinity – For the first time,Disney Infinityis available in the Nintendo eShop – and it's free to download. Enjoy online multiplayer and more fun ways to play. Use your Wii U GamePad controller to create your own worlds in the Toy Box or activate missions and unlock toys in Play Sets. With Disney Infinity, the possibilities are endless. (A Disney Infinity Figure and Base, sold separately, are required to play the downloadable version of the game.) Click hereto watch a trailer for the game.

Virtual Console on Wii U

Mega Man 6 – Every Thursday in August, Nintendo and Capcom are bringingclassic Mega Man games to the Virtual Console service in the Nintendo eShop on Wii U. This week: Mega Man 6, which originally launched on NES. On the eve of the Grand Championship of the First Annual Robot Tournament, Mr. X announced that the entire tournament was just a scheme to get his hands on the world's most powerful robots. Mega Man must battle through 16 levels to defeat his ferocious new foe. Click here to watch a trailer for the game.
Life Force – Blast your way through six stages of intense action and take on wave after wave of enemies, alternating between horizontal- and vertical-scrolling environments. Go at it alone, or invite a friend to pilot another ship and assist in the challenge. Do you have what it takes to save your planet from the monstrous Zelos? Click here to watch a trailer for the game.

Virtual Console on Nintendo 3DS

Xtreme Sports – Choose your hero and master sports like Skateboarding, In-Line Skating, Street Luge, Skyboarding and Surfing to become crowned the Xtreme Sports Champion. Can main characters Guppi and Fin battle their way to the top, or will they fall victim to the mischievous Bonehead Gang? Find out in this original mixture of sports, adventure and role-playing. The game features more than 400 competitors, multiple modes, power-ups and a tropical island lush with secret paths and hidden challenges.

Nintendo eShop Sales
Coming soon:
Donkey Kong Jr. Math – Aug. 28 (Virtual Console on Wii U)
Also new this week: