No, not those shorts, short stories. A collection of minute tales from the legendary Steve Ditko is on the way from IDW and YOE Books.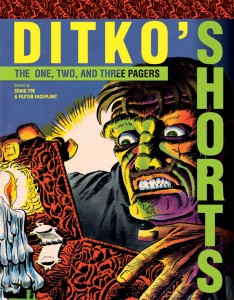 If you're a comics fan, a big time comics fan, then you already know who Steve Ditko is. And just in case you don't; he's the creator of characters like Spider-Man, Dr. Strange and more. Yes, he's that big time. He's also widely recognized as one of the greatest artists of all time and could work on tales from every corner of fiction, with completely different moods and themes, with relative ease. Not an easy feat.
Now IDW and YOE Books are bringing a little more of the genius that is Ditko to comics fans by way of the Ditko'Shorts graphic novel. Containing a series of one(!), two, and three page stories form the master himself, this book is one that every comic buff pretty much needs to have in his or her collection.
Craig Yoe exclaims, "To put it short: Steve Ditko is 'Ditko hands' down the greatest living artist from main stream comics! His mastery is especially apparent in these amazing short stories where he's in, he's out and your mind has just been totally altered!"
The stories in the book run the gamut in style ("horror, fantasy, science fiction, western, and even humorous stories") and publisher alike, as they're taken from a number of "rare comic books" from multiple publishers. Each one has been restored to its former glory for print here in this large-scale book, along with forwards by "punk rocker and comics historian" Fester Faceplant (there's a name) and the aforementioned and Eisner Award-winning Craig Yoe.
Ditko'Shorts will be available this coming November at comic shops and will run $24.99 USD.