The main antagonist from Kirby's Adventure and Kirby Nightmare in Dreamland debuts in Smash as an assist trophy.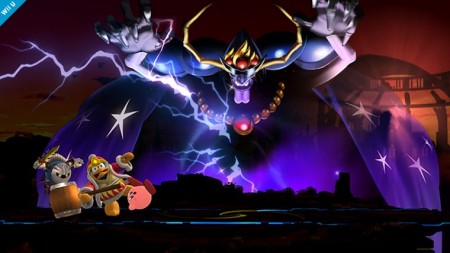 Nightmare looks really good, the stylized appearance fits him well. He has two forms, the enigmatic power orb, and wizard. His behavior in battle is not so different from the final bosses you fight in subsequent games. Like Dark Mind, Queen Sectonia, Marx and others, he'll teleport all over the place and attack you from many different angles. He wasn't an easy boss, especially after having to contend with the power orb's nasty attack patterns. His assist trophy assaults you with a power that wasn't present in Kirby's Adventure and Nightmare in Dreamland. The entire stage goes dark, forcing all players to fight blind.
This ability of his is similar to Togepi's night shade that appeared in Super Smash Bros Melee. Like Nightmare, Togepi would occasionally black out the entire stage for a short period of time. Whether it will be exactly like it, last a little longer or have a shorter time span is unknown. Either way, it's a joy to see Sakurai acknowledge Nightmare, and bringing him to Super Smash Bros in some form. Keep your eyes peeled for more updates as the release date for Smash draws ever closer.