Warner Bros and Monolith Productions announced that there will indeed be a season pass of DLC available for this upcoming open-world, action/adventure Middle-earth: Shadow of Mordor.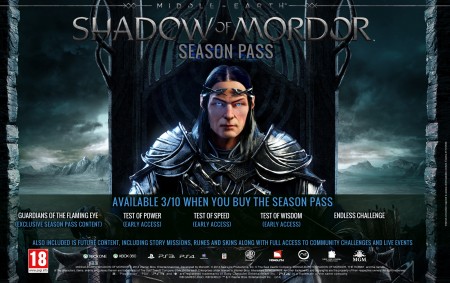 With a game that's potentially this big, it's probably no surprise to anyone that there's going to be plenty of downloadable content made available for it. What is kind of interesting, and has some very cool in-game ramifications, is that one of the DLC packs allows you to play as Celebrimbor, who you see in the promo image above.
If you haven't been following the game's development and don't know who that is, he's the wraith that gets bound to main character Talion and gives him all his incredible powers and abilities in the game. In the DLC pack titled The Bright Lord, you'll actually play as him, presumably when he was alive if the image is anything to go by. What's so interesting about that?
Well, Celebrimor was last alive some time before the game started and was a smith in the second age- which means he was  around during the rise and fall of Sauron himself- the main series villain. Just how much of that age we'll see in the add-on remains to be seen, but for fans of the Lord of the Rings books and movies, it's really neat just to have the promise of playing some part in the Second Age.
There's more than just that one pack in the proposed set though, and here's your rundown to prove it:
The Season Pass includes:
Exclusive 'Guardians of the Flaming Eye' Orc Warband mission
Players will face Sauron's elite Defenders before the Black Gate and earn the Rising Flame rune
Early access to the 'Trials of War' challenge series
Players will test their skills against select legions of Sauron's forces in this series of challenge modes and build their legend as gamers post their best score on the Challenge Leaderboard
All new story missions with hours of gameplay
Lord of the Hunt – Hunt the wild beasts of Mordor as player's discover hidden lairs, earn unique runes and face off against powerful monsters
The Bright Lord – Play as Celebrimbor, the great Elven smith of the Second Age, and battle against Sauron and the might of his forces
Access to future content
Including runes, skins and additional future add-on content.
Middle-earth: Shadow of Mordor launches onto the Xbox One, PS4, Xbox 360, PS3, and PC on September 30th.