In her first novel under the pen name Mira Grant, this political zombie apocalypse based read is the beginning of her 'Newsflesh trilogy'.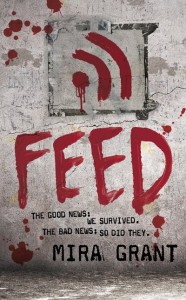 The story is set in the year 2039, following a group of young american bloggers in a zombie ridden world. In a world where we have found cures for Cancer and the common cold, these two long awaited vaccines have combined and caused a zombie apocalypse known in the book as The Rising, where people infected with this 'Kellis-Amberlee' virus amplifies any living mammal over 18kg to a flesh seeking undead.
The majority of the population live inside of strict quarantine zones, with harsh blood testing and decontamination protocols, and curfews to boot. With the exception of some parts of the world, such as Alaska, which are so over run with these zombies they have become high class danger zones, and completely evacuated and left for the undead to roam freely up until the borders, where strategic border patrol will keep a close eye on the infected, allowing for none to pass.
The story follows the narrative of one Georgia Mason, a 'Newsie' for the blog Until the End of Times. Her brother Shaun and their good friend Georgette, better known as Buffy, join her in the blog as co-owners. Shaun is known as an 'Irwin' based off of the great Steve Irwin as they are renound for trying to educate by putting themselves into the danger, so you don't have to. And Buffy is the 'Fictional' of the three, who's poetry and stories are published. Although throughout the majority of the book Buffy is more known to be the 'techy' one as well, useful at hacking and re-routing IP's, placing bugs, and so much more.
Following the Presidential campaign of Senator Peter Ryman, the team are feeling that this trip across America will be uneventful. Unfortunately for them, the trip is full of death, conspiracy and terrorism, involving the malicious use of the K-A virus. A highly controversial event at the Ryman family ranch lead to the bloggers to investigate further in to find the truth behind all the so called 'accidental incidents' that have been going on, to discover that some one very close to them is behind it all, in fact, its a truth they really didn't want to hear.
This novel is something different, it has plausibility, and all the makings of a future classic, and it's a definite must read for any horror or sci-fi fan. As this is the first book of the trilogy there are another two to go, and with an alternative ending to this available also (called Fed) the reader can really get their teeth in this read.
Final Thoughts
An excellent book, great theme, and of course plenty of juicy details to get the imagination running.