The universe created in the original novels and the CD Projekt RED series of RPG's is coming to mobile platforms as a MOBA.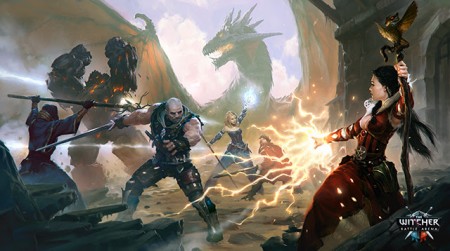 I would not, pretty much ever, have pegged The Witcher series as fodder for a free-to-play MOBA. And yet here we are, and it actually sounds pretty dang entertaining.
"With mobile devices as powerful as they are and the graphics they offer being so beautiful, we can finally plunge into mobile gaming and deliver our take on free gaming to gamers worldwide," said Adam Badowski, Head of Studio, CD PROJEKT RED.
Mobile games definitely are climbing the ladder as to visual quality and all-around value for hardcore gamers. It's the content that sometimes puts players off a game on mobiles though, especially one that's a tie-in to an already existing franchise and definitely ones that are free-to-play. Have no fear though Witcher warriors, because according to CD Projekt RED and mobile developer Fuero Games, there's nothing 'pay to win' about this one.
"In a world full of enter-your-PIN-number-to-win mechanics, what we value above all is well-balanced and honest gameplay," said Tadek Zieliński, Creative Analyst, CD PROJEKT RED. "Battle Arena is all about skill and dedication, and we've spent hundreds of hours planning to make it a paragon of fairness in mobile gaming," Zieliński added.

"The whole team here at Fuero Games is really excited at the prospect of developing a game for such a big and engaged community as that of The Witcher. I'm convinced that our skill in mobile multiplayer game development, combined with the creative flair of CD PROJEKT RED, will produce an experience Witcher fans will want to come back to again and again," said Stanisław Fiedor, CEO, Fuero Games.
As for the specifics of play, The Witcher Battle Arena is being built as a fast action game that's not going to take a lot of time and effort to get into- which sounds great for a mobile title. Basically, each arena will have three control points that six player characters are going to have to battle over. There's a "character progression system" built in that basically allows you to tailor your own hero to suit your play style, built on the templates of some of Witcher lore's greatest characters like "the witcher Letho of Gulet, dwarven adventurer Zoltan Chivay or the mighty sorceress Philippa Eilhart."
All told, it sounds extremely promising, and there's nothing wrong with a little on the go Witcher action. Not to mention the fact that it'll plug the hole that exists between now and the release date of The Witcher 3: Wild Hunt on consoles, which sits so very far away in 2015. You'll be able to catch a download of The Witcher Battle Arena sometime this Fall/Holiday on iOS, Android, and Windows (phones and tablets. Free future updates are planned as well and will expand the game with more characters and modes of play.