Valiant brings their big Summer crossover to the Amazing show in the desert this weekend, along with a selection of panels and signings.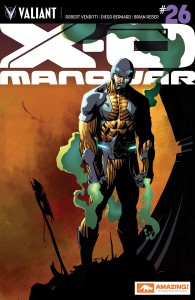 No game of chance is required to take part in the Amazing Las Vegas Comic Con, coming up this weekend in Las Vegas, Nevada. And you won't need a full house to see what Valiant Comics has on tap either as the company has a special slate prepped for the show.
First up is their con-exclusive cover for X-O Manowar #26, which includes the Armor Hunters. One of the biggest event books in comicdom this year, this special edition of tie-in XO-Manowar #26 displays cover art from Bart Sears and will be available for purchase only at ALVCC. That's not all that will catch your attention though as the company will also have giveaways galore and signings at the booth with Fred Van Lente , who you might know from Archer & Armstrong and the upcoming The Delinquents mini-series.
If you're looking for panels, the Valiant First and Beyond presentation will be talking about the Valiant First initiative and the lineup of titles like Rai, the aforementioned Armor Hunters, The Delinquents, and The Death-Defying Dr. Mirage. Van Lente will also be a part of that panel, as will  Valiant CEO and Chief Creative Officer Dinesh Shamdasani, and some surprise guests. Look for it on Saturday, June 21st at 2 PM in the Tree Room- which just sounds lovely.
The Amazing Las Vegas Comic Con (their logo is awesome by the way) takes place at the South Point Hotel & Casino, June 20th through the 22nd. Valiant will be at booth #515 on the show floor.