Tozai brings their R-Type revival to the PS3 with both new and classic versions of the classic shooters intact.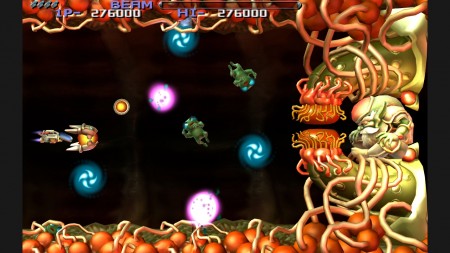 One of the first real shoot 'em ups (or shmups, if you're cool like that) that I can remember playing, R-Type will always have a place in my heart. I'v never really played it in the arcades though; no, my days facing the Bydo Empire (which is made up of a unique mix of mechanical and revolting biological organisms) were spent on either the NES version or Super R-Type on the SNES, one or the other.
Most versions of the classic title are just rehashes of the arcade game that started off the franchise, with a few exceptions. The point being that it's not all that difficult to get past incarnations of the game mixed up. R-Type really has no story either, so that just goes to further confuse things. R-Type Dimensions is a little bit different though, as it's more of a collection with a few little extras tossed in that set it apart from what's come before. It's not trying to reinvent the wheel, and that's a good thing.
In the set, you get both the first R-Type and R-Type II, though there's more than just the pair of games enclosed. More on that in a minute though. Both original games are re-skinned here and have a really cool, slick look to them.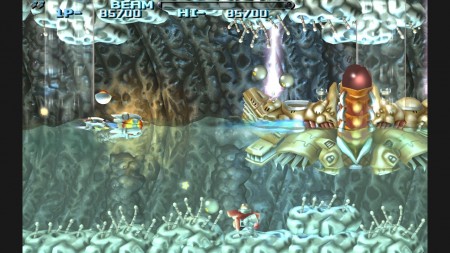 The visuals in R-Type II might be a little better than the first one use because there's more going on on the screen, but both are equally impressive and almost have a '90s PC/PSOne game air about them. It's kind of hard to describe, but you kind of know that 'look' when you see it. It's a good thing though, so don't sweat it too much if you don't know what I'm talking about and/or it's just one of those oddities that only I think is a thing… which might be.
One of the coolest things you can do here though is switch on the fly between those new looks and the original graphics set. I have to say, as much as I did like the new looks, I think I like the classic 16 bit-like graphics even better. If you played the arcade games, then this is probably going to look just like them to you. As I mentioned, I've never played R-Type in the arcade, so I'm not sure if this on-the-fly resin takes you back there in an arcade-perfect way or not, though I imagine it does.
There's also an oddball camera angle called 'Crazy' and it kind of is. Almost making both R-Types into whole new games, this camera view tilts the screen to the right and makes an angled view that ramps up the difficulty a bit. It can be difficult to see just where the enemies are hitting you, which angle their bullets are coming from, and even where the edges of obstacles are.
That might just sound like a pain, but it really does add quite a bit of replayablility the main game, which you can otherwise breeze through in about an hour depending on how skilled you are. Personally, I'm not all that skilled and even I was able to get through R-Type in no time flat and part 2 in not all that much different.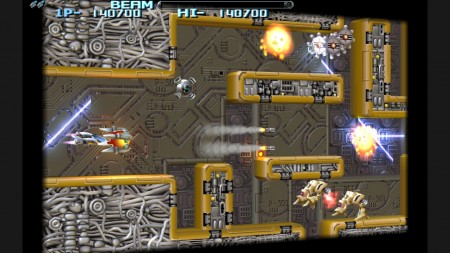 As to the Crazy Mode (and the rest of the game for that matter), the controls here are excellent. Flying through the stages rarely results in cheap deaths and the shooting is easy as pie with both rapid fire and charged shot buttons at the ready. You'll also collect weapon upgrade orbs as you play which give your little ship all kinds of cool new ways to fry the Bydo.
If bringing a pal into the war zone is more your thing, you can also indulge in a little offline co-op in R-Type Dimensions (now that's something you don't see every day anymore). And you can even play levels in any order you like after you've cleared them in the arcade-style game. For those new to the genre there's a selection for infinite lives too, which does come in handy, and a slo-mo function that'll let you ease up on the stress when things get a little too insane.
Final Thoughts
I'm not wild about shoot 'em ups, but for the nostalgia alone I seriously dug R-Type Dimensions. Tozai did a great job porting the original classics and upgrading them to the levels that most modern gamers who do like the genre probably expect.
It doesn't take all that long to play through, but R-Type Dimensions adds enough extra oomph with its extra modes and the co-op option that it stretches out the play time by a decent margin. If you're looking for a game to fill up an afternoon, R-Type: Dimensions will do nicely.