These are the cringe-worthy moments that I wish exec's would try and avoid.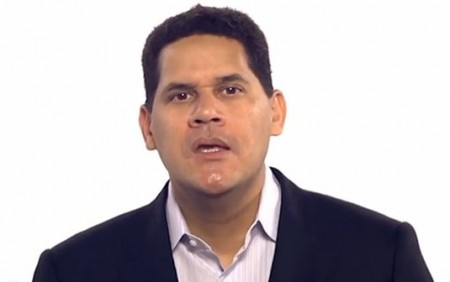 According to the headman of Nintendo of America, Reggie Fils-Aime, the Wii U console is battling it out with the PS4 for first place in sales with the Xbox One coming up dead last in third. First- no, you're not imagining things. Second- No, Reggie isn't talking about some future time filled with sentient Wii U Sentinels eradicating every other console that come across.
Looking at the numbers (and as of April), the Wii U had sold roundabout 6.17 million units. That's a pretty nice number, especially when you consider that the console had been beaten up a bit in the last year and almost left for dead by the press and fan-base alike. Now, if Reggie had just touted those digits and said that they represented a solid (not spectacular- solid) turnaround for the console who's sales were of the Dreamcast level not all that long ago, we'd be good. Actually, as a fan of Nintendo myself, we'd be great.
But then he had to go and say that the Wii U was beating the Xbox One and almost beating the PS4 in global sales. So, is it? Well no, not really. See although the numbers themselves represent a view that that is in fact the case, it's really not. The Wii U, which sits at about 6.17 million units sold as of a few months ago, took over a year to get to that point. The PS4 on the other hand? Sony's newest box did better in just five months, coming in at around 7 million in sales. Oh, and the Xbox One? Microsoft's 360 successor has moved 5 million consoles in the same timeframe as Sony.
So if you're just looking at numbers, just the numbers, then yes it does look like Nintendo is right there; maybe even about to take over first place as their sales have been on the upswing as of late. It's when you take that added dimension of time into account that you see that it's not really the case.
Though there were a number of really terrific looking games shown off at E3 last week, Nintendo still has a ways to go to make up the ground that Sony and Microsoft have made for themselves since launching their consoles last November.  Don't forget too that both of those companies also had pretty great showings at E3 and will hardly be sitting back on their laurels, allowing Nintendo to crawl back into things.
It's going to be a tough road for the Wii U, no doubt. And though Nintendo is on the upswing and has some great stuff lined up for down the line, it'll take quite a bit more forward momentum for their 'new' console before we can start saying that they're right there and neck-and-neck with the likes of the PS4.
Source: MCV