Tomorrow is going to be quite the day for 3DS owners as two huge titles release on that very same day.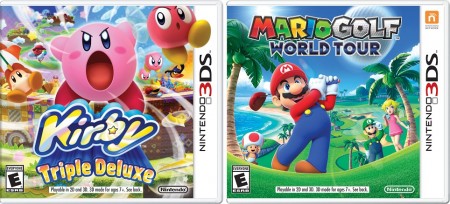 Players getting these games can look forward to features such as the season pass for Mario Golf: World Tour, as well as goodies within the game like the keychains which can be found in Kirby: Triple Deluxe. Each title heavily expands on the system that their respective franchises have employed. Handy items make their debut in Mario Golf, like the fire flower can burn through obstacles like grass, and features in Kirby, like the miracle fruit, add some spice to the pink puffball's adventure. Another neat addition to Mario Golf is the spotpass feature which notifies you of tournaments that are scheduled to come up.
There's a pretty cool multiplayer mode in Kirby: Triple Deluxe, called Kirby Fighters. In this mode, you choose between 10 different abilities, and duke it out with other players or CPUs that control Kirbies possessing copy abilities. It functions a little bit like Super Smash Brothers, albeit with a less deep fighting system than the former. The object of the game is simple, attack the three other Kirbies until their health bars completely disappear. If you have friends to play Kirby with, this mode ought to keep you occupied for a long time to come. Kirby: Triple Deluxe and Mario Golf: World Tour come out tomorrow, you can also download them on the eshop.