If you thought Wargame: Red Dragon couldn't get any better looking, have a peek at this new offering of screens showing more of the game's sea-going forces.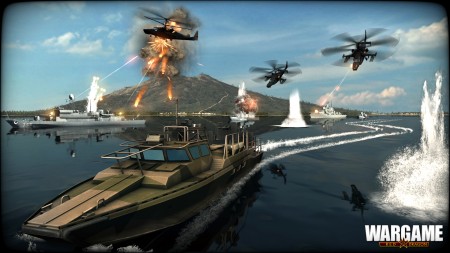 If you've never played a Wargame title in the past, then it might come as a shock to you that these are RTS screens you're looking at. I keep on saying it in my write-ups of the games simply because I really can't believe how detailed these Cold War era games are myself. They are most definitely of the real-time strategy genre though and man does Red Dragon, the latest in the series, just keep on looking better and better.
This newest installment of shreenshots released by the game's developer Eugen Systems shows off a number of naval units in some skirmishes with both aquatic and airborne forces. Naval battles are actually one of the focal points of Wargame's sequel and Eugen is doing them up right with an expansion of what the series has featured before. Here you'll find "Destroyers, frigates, cruisers and many other vessels" all waiting for you to take 'em for a test drive.
If you're in the Steam Early Access version of the game, which you are if you pre-ordered through the online digital storefront, then you're playing through some of these watery wars right now. If you haven't pre-ordered as of yet, you still have some time since the game doesn't actually launch until the 17th of this month. If you're an owner of the first game, Wargame AirLand Battle, then you've actually got a nice little 25% discount coming to you if you do pre-order the title through either the official site or Steam.
We're talking only a few days here till launch though, so if you want in on that, best get to clicking.