Valiant Comics' newest book will be something of an experiment too as a special alternate edition will include 15 pages of extra content found nowhere else.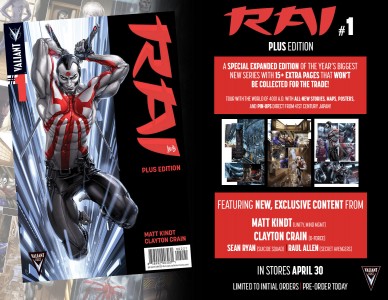 Rai #1 Plus Edition will be arriving on the racks the same day as the standard version of the hotly anticipated first monthly foray into 41st century Japan from the publisher. Longtime fans will remember that the future Earth played a big part in the ongoing Valiant Universe the first time around in the '90s and it looks like the modern version of the continuity will be making that a reality once again starting with Rai and the current Eternal Warrior ongoing series.
And Valiant has a little something extra in store for those who pick up the super-limited Rai #1 Plus Edition comic. This variant edition of Matt Kindt and Clayton Crain's newest effort will include 15 pages of extra content that won't be found in the regular book, or anywhere else for that matter. That means you won't see it online or in any collected volumes. Miss this one and that's kind of it.
Packed with exclusive stories and art from the minds of Matt Kindt (Unity,Mind MGMT) and Clayton Crain (Carnage) – plus all-new contributions from writer Sean Ryan (Suicide Squad) and artist Raul Allen (Secret Avengers) – the RAI #1 PLUS EDITION is your chance to explore the far-flung world of 41st century Japan with never-before-seen stories, maps, posters, and pin-ups drawn directly from the mythology of Valiant's next smash-hit series!
The Plus Edition will be limited to only the first round of orders arriving in stores, so grab a copy while you can dear readers, because they won't last too long. Rai #1 (in all forms) ushers in a brand new age in a little under a month, as you can secure your copy on April the 30th.