An additional wave of Marvel NOW! titles are headed back to print for a second run at retail.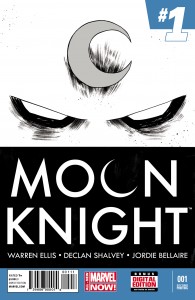 This is getting to be a pretty common theme with Marvel Comics' latest push of their Marvel NOW! initiative. The latest series of books to leap over the second print run hurdle are almost all low numbered editions (mostly #1's) with the exception of Guardians of the Galaxy (which is on fire) and All-New X-Men, which is seeing a big bump with its Trial of Jean Grey arc.
That's a great sign as it shows that fans are really digging what Marvel is putting out right now. It's terrific for them in particular, but it's also nice for the industry, since readership is always a concern… even in the days of massive blockbuster comic book movies.
So, what's coming back around again? Here's your list, complete with release dates:
SHE-HULK #2 SECOND PRINTING VARIANT (JAN148388)
Written by CHARLES SOULE
Art by JAVIER PULIDO
Cover by KEVIN WADA
FOC 03/24/14, On Sale – 04/16/14
MOON KNIGHT #1 SECOND PRINTING VARIANT (JAN148386)
Written by WARREN ELLIS
Art & Cover by DECLAN SHALVEY
FOC – 03/24/14, On-Sale 04/23/14
MAGNETO #1 SECOND PRINTING VARIANT (JAN148385)
Written by CULLEN BUNN
Art by GABRIEL HERNANDEZ WALTA
Cover by PAOLO RIVERA
FOC – 03/24/14, On-Sale 04/16/14
MS. MARVEL #2 SECOND PRINTING (FEB148098)
Written by G. WILLOW WILSON
Art by ADIRAN ALPHONA
Cover by JAMIE MCKELVIE
FOC – 03/31/14, On-Sale 04/23/14
CAPTAIN MARVEL #1 SECOND PRINTING (FEB148095)
Written by KELLY SUE DECONNICK
Art & Cover by DAVID LOPEZ
FOC – 03/31/14, On-Sale 04/23/14
FANTASTIC FOUR #2 SECOND PRINTING (FEB148096)
Written by JAMES ROBINSON
Art & Cover by LEONARD KIRK
FOC – 03/31/14, On-Sale 04/23/14
NEW WARRIORS #1 SECOND PRINTING (JAN148387)
Written by CHRISTOPHER YOST
Art by MARCUS TO
Cover by RAMON PEREZ
FOC – 03/24/14, On-Sale 04/16/14
NEW WARRIORS #2 SECOND PRINTING (FEB148099)
Written by CHRISTOPHER YOST
Art by MARCUS TO
Cover by RAMON PEREZ
FOC – 03/31/14, On-Sale 04/23/14
ALL-NEW X-FACTOR #3 SECOND PRINTING (FEB148093)
Written by PETER DAVID
Art by CARMINE DIGIANDOMENICO
Cover by KRIS ANKA & JARED FLETCHER
FOC – 03/31/14, On-Sale 04/23/14
ALL-NEW X-MEN #23 SECOND PRINTING (FEB148094)
Written by BRIAN MICHAEL BENDIS
Art & Cover by STUART IMMONEN
FOC – 03/31/14, On-Sale 04/23/14
GUARDIANS OF THE GALAXY #12 SECOND PRINTING (FEB148097)
Written by BRIAN MICHAEL BENDIS
Art & Cover by SARA PICHELLI
FOC – 03/31/14, On-Sale 04/23/14