Born from a combined effort between Diamond (who we're pretty big fans of here at BG) and high-end toy-maker Medicom, Swamp Thing will be strictly limited to 300 pieces and will only be available at entertainment retailer Hastings.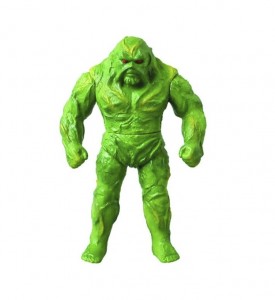 Standing in at 12″ and made of vinyl material, this Swamp Thing is just about as cool a collectible as you're likely find of the DC Comics character. Swampy is the first in the oversized figure line attached to the DC Comics Sofubi series from Medicom and is sculpted by the guys at Bear Model with pain apps by Frenzy. The look is eerily reminiscent of the 'pre-New52' Alex Holland and reminds me of the old TV show of the same name… that's a good thing by the way.
Reportedly, this bad boy will be shipping in a pretty awesome-looking box too as the packaging has been created to be reminiscent of the "good old days" and will feature a big window on the front and some big and bold artwork by Jose Luis Garcia-Lopez. Garcia-Lopez has worked on a ton and a half of DC projects in the past (including Batman, Superman, and Wonder Woman) and has a terrifically classic style that should be really cool here. Plus I don't think he's ever worked on Swamp Thing before, so it should be cool to see his take on the character.
Swamp Thing will retail for $149.99 USD at launch, but you can preorder one right now at Hastings for the price of $119.99 USD, which is a pretty solid savings. If you want one, it's probably a good idea to pre-up anyway since there will only be 300 of these made. Get yours here.