Activision and Beenox' upcoming web-swinging sequel will feature a very cool four-pack of costumes as DLC if you preorder the game.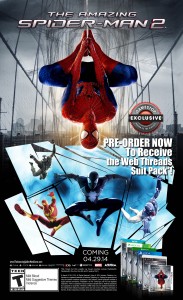 What's neat here is that, even though Sony's Spider-Man movie universe is stuck outside of the Marvel Cinematic Universe that the publisher's film wing is continuously setting up (for now anyway), the games can plumb the depths of Spidey history within the comics just fine. Case in point- the new Web Threads Suit Pack that you'll get if you preorder The Amazing Spider-Man 2 game at GameStop.
The bundle will include four costumes that you can change Spider-Man into at any time in the game including:
The cutting-edge designed, red and gold Iron Spider Suit
The stellar, blue and white Cosmic Spider-Man Suit
The all-consuming, Venom-like Black Suit
The pulp-style Spider-Man Noir Suit
Each suit will offer special combat bonuses as well, though just what they are isn't known right this minute. Honestly though, if you're planning on getting this one anyway, this is a great option since you get the black costume. The suit, which originated in Marvel's massive Secret Wars event years ago has become a fan-fave and is easily neck and neck with the hero's classic duds as the preferred look for Peter Parker's alter ego. For that alone, the Web Threads Suit Pack is worth getting; that you're getting it free of charge is all that much sweeter.
The Amazing Spider-Man 2 will be available for the PS 4, Xbox One, Xbox 360, PS 3, Wii U, 3DS and PC on April 29th from Activision and longtime Spidey game developer, Beenox.