Yoshi's New Island launches this month right along with a shell-cracking new Yoshi-branded console.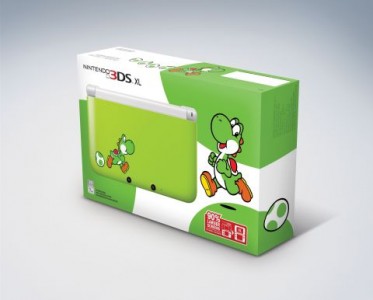 As game launches go, Yoshi's New Island is a pretty big one. Not only is it a 'Mario' title, but it's also the first game starring the little green dragon/dinosaur since 2006 (thanks to Chris D for pointing that one out!). As hard as it might be to believe, the sub-series to the main Mario games is definitely one of the titles in Nintendo's stable that just doesn't see releases that often.
And as a 'major' release on the year's calendar, Nintendo is going big… well, let's actually say XL. The new 3DS XL console that'll be hitting right alongside the game (seen above) sports a green/white color scheme that's pretty striking, along with Yoshi graphics on the front and some 'lil' eggs on the back. If you're a fan of the character, this might be a console that you'd want to take a long look at, and if you're a NIntendo fan, you might want to pick it up just to add to your collection.
The console will hatch at retail on the same day as the game, March 14th, and will cost you $199.99 USD.