Writer John Charles and photog
By John "Tougher Than A Harley" Charles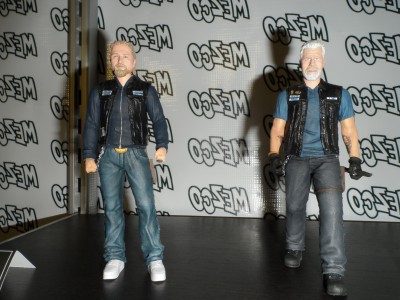 New York- Mezco Toyz invited a handful of reporters to their international world headquarters Wednesday for an exclusive preview of the items set to be revealed at The 111th American International Toy Fair on February 16th. Despite Mother Nature's attempts (or should we blame Freeze Meister?) the show went on and for those of us who made it (some on tauntaun) the payoff was worth the trip.
Mezco's world headquarters is a toy collector's dream. Located in a historic Long Island City building that was once a shirt factory and horse stable, the offices take up almost an entire floor of this half block building. A 300lb steel cockroach (Gomez, the company mascot) guards the door with gleaming exoskeleton armor, life size arms reminiscent of those in Dracula's castle jut from the walls holding Living Dead Dolls. Toys fill cool modern shelving units and ultra modern sofas beckon you towards a giant flat screen tv hooked to a PS3. Banners featuring Living Dead Dolls hang from the walls. I've been more than a few toy showrooms and I must say, Mezco really knows how to put on a show. Not only did they give all of us a sugar rush with raspberry filled chocolate donuts, banana bread bagels, and some fancy pound cake by Entenmann's (Drake, sounding like a commercial, said "My Grandma used to say; When you really like someone, you serve Entanmann's") but they gave all attending media a complimentary Sons Of Anarchy challenge coin (they specifically told all guests that these should not be sold on eBay but I have noticed they are now listed, and selling, for $99-$150 each).
Mezco's jolly Director Of Special Projects, known as Drake, gave us an overview of the products set to be revealed in 2014, then with a flourish of his walking stick (due, I was told, to a fencing injury) opened the doors to Mezco's generously sized conference room and let everyone swarm in for photos and video. Drake was assisted by Luis, a new Mezco employee who seemed genuinely amused by the fervor some toy journalists display when seeing new product.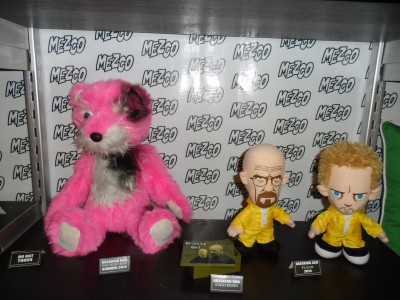 Mezco's offerings for 2014 are impressive and ambitious. Their Breaking Bad line continues with not only variant figures but Jesse and Saul as well. These are joined by some decorative plush pillows featuring the Br and Ba of the logo as well as Saul and a large Heisenberg head. Perhaps the star of the line is the life size pink teddy bear plush. Drake indicated that he and Design Manager Damien Gloneck (perhaps more famous as one of the trio who created the Living Dead Dolls) spent days examining one of the real screen used bears at the nearby Museum of The Moving Image. Mezco has really captured the burned look of the figure while still keeping him cute and cuddly. They are also expanding the popular breaking Bad bobble head line.
The Mez-Itz line of designer vinyl figures grows with the addition classic 1966 Batman and villains. All the figures have spot on likenesses and those who have been waiting for john Astin as The Riddler finally get their wish!
Mezco showed the figures and plush they have planned for AXE COP. Based on a webcomic that turned into a print comic that turned into a web based animation that turned into an animated tv show soon to be on Fox, Axe cop features some of the most outlandish characters ever seen. How outlandish? Well, besides the titular axe wielding cop, there is a t-rex with machine gun arms, an avacado unicorn, and soldiers made of poo. Mezco will be producing both 3.75 inch figures and plush characters for the series. This is Mezco's second year producing Axe Cop figures and, while the show is not a breakout hit, it does have a solid fan base that continues to grow. "After all" said Drake, "noting beats a T-rex with machine gun arms. Nothing!"
Mezco's giant size 14inch tall ThunderCats line was not shown but Drake says not to give up hope.
The most popular area was displaying the Sons Of Anarchy merchandise. Flanked by life size cardboard cutouts of Clay and Jax figures (courtesy of Advanced Graphics advancedgraphics.com ) were the stars of the show; Mezco's Sons Of Anarchy action figures. Mezco has worked magic and captured virtually photo-realistic likenesses on the two Jax and Clay figures that were shown. Both characters will come in riding clothes as well as SPOILER ALERT! prison jumpsuits. The detailing of the figures is nothing short of astounding with even the fine lines of the infamous reaper logo being clearly reproduced in miniature. Mezco will also be releasing 12 inch versions of the figures later in 2014.
Mezco will expand the SOA offerings by making Sons Of Anarchy plush figures and I can imagine more than a few fans of the show wanting to cuddle Jax (and the rest). They also have a line of stash boxes and jars planned ("For mints and pocket change" indicated Drake) along with tin signs and pillows that are clearly going to be de rigueur décor for Man Caves in 2014!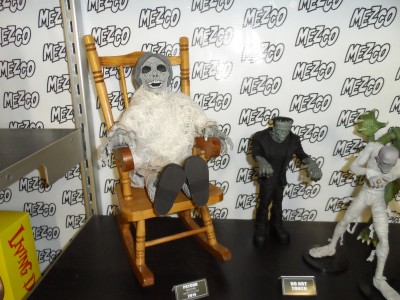 In a surprise move, Mezco revealed a rotoplush of Mother 's corpse from Psycho. Drake indicated that countless hours of research were done with both historian Bob Burns and actor and horror expert Daniel Roebuck (recently seen on GLEE and GRIMM after being blown up on LOST) to get Mother's dress right as well as her seldom seen shoes and hands (fun fact; the actual head of Mother used by Hitchcock is on display in the Musée du Cinema in France)
The ever popular Living Dead Dolls line continues with Series 27, which features ghosts and ghouls from around the world. It was revealed that on 2/17/2014 Mezco will receive an award and the Living Dead Dolls will officially be proclaimed "The World's Longest Continually Running Series Of Collectible Horror Themed Dolls". 2014 will also see the release of a Living Dead Doll Headless Horseman (with removeable head) as well as other Living Dead Doll items.
Chucky, fresh from his fan-favorite super bowl commercial, continues to wow fans with talking plush 18inch versions of both Chucky and his sassy, psychotic bride Tiffany, as well as a stylized version of Chucky, and a new Mega Cgucky figure that Mezco will reveal at Toy Fair. In a move sure to thrill fans, Drake revealed that the 18 inch dolls would actually speak famous lines from the films in the actual actor's (and actresses') voices!
Mezco reps ended the tour by distributing their 2014 Toy Fair catalog , a limited number of which are available to the public at their online store www.mezcotoyz.com
(Note: Harley Davidson was originally set to display bikes in the Mezco showroom but needed to pull out due to weather concerns. This was a badge of pride among the attendees who could now proudly say they were "Tougher than a Harley")
# # #
About John Charles:
A writer and PR guy by trade, I've been in the business since 1987 when I sold my 1st piece to Playboy. My work has appeared in Rolling Stone, Baby Boomer, Newsweek, Psychology Today, Playboy, Omni, FHM, ASB magazine, and others.
I live in New York and need to stop eating hot dogs from food carts.