Sarah Black is back, and the old sea dog Davy Jones doesn't stand a chance against this plucky museum curator.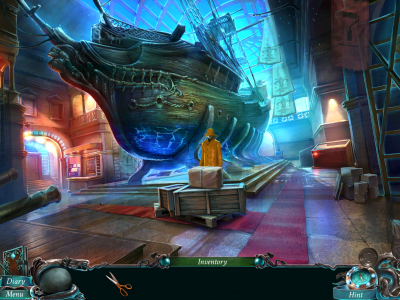 Nightmares From the Deep: The Siren's Call is the latest hidden object adventure from G5 Entertainment, and it brings back a favorite character from a previous adventure. You play again as Sarah Black, a museum curator who's daughter was stolen from the museum by ghostly pirates. In the first Nightmares From the Deep, Sarah had to stand up against Davy Jones himself to save the day, and Siren's Call has the two at odds again.
As the game begins, Sarah is working at the museum when a mysterious figure arrives. He contains a magical package that can only be opened with one of Davy Jones' artifacts – which just happens to be on display at the museum. As the package is opened to reveal a golden octopus, strange creatures arrive to snatch it away. The man describes an island in peril, and his hope that you will be the one to save them all.
And so begins your adventure. As you explore the island, you uncover clues about the evil mayor, who has imprisoned a mermaid/siren in a pact with Davy Jones, giving him power over the mighty kraken. He uses the kraken to destroy incoming ships for plunder, but all pacts with Davy Jones come with a curse, and there's is turning everyone on the island into fish people. You'll need to search the island for twelve golden coins to unlock the treasure chest containing the one item that holds the mermaid hostage, freeing the people of the island and dooming the mayor.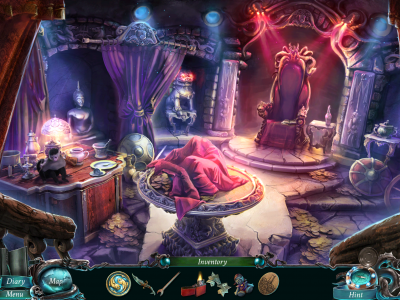 The game plays out is standard hidden object fashion, for the most part. You'll wander around a series of environments within the island, searching for lost items and unlocking new areas. Some items will be just laying around for the picking, while others require a little more work to acquire. Sometimes you'll play mini games, requiring you to arrange tiles just so or figure out proper paths, in order to unlock hidden items. Other times you'll do standard hidden object finds, where you are given a list of objects to find on a set screen. Like the first Nightmares of the Deep title, in The Siren's Call these puzzles come with a choice. You can either complete the list of hidden items, or you can switch to a game of mahjong to uncover the object instead.
For those unfamiliar with it, mahjong is a game where tiles are arranged in various stacks and formations. You must match pairs of tiles to get them to disappear, ultimately clearing the board. Only tiles who have at least one side (left or right) clear can be matched, so it requires some skill. In this game, there isn't any penalty for shuffling the tiles, so it is actually a nice introduction to the game – and a great alternative to using the hint system if you get stuck, as you can switch at any time.
The hint system is always available to you, aside from a short recharging period after use, should you get stuck on where to go next. In addition, you have a map that is quite useful. By selecting a location on the map, you are instantly take there, which eliminates the wandering around back and forth that can make games like this tedious. The map even shows you the locations that have actions available, if you need a little nudge in the right direction.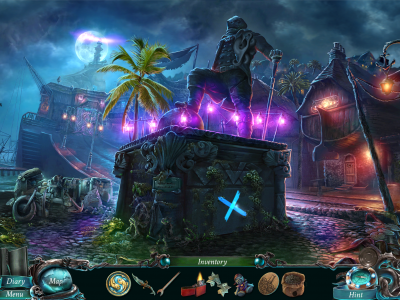 Nightmares From the Deep: The Siren's Call is an engaging game that offers a lot of game play in a casual atmosphere. With a variety of options available to those who don't want too much of a challenge, it's a great game for beginners and young fans. The story is interesting, and well developed, making it easy to stay involved in the game. And when you do finish, there's even a short bonus game that gives you a bit of an epilogue of what happens next. The Siren's Call is an example of what a casual hidden object adventure should be – casual and fun.