Meet the X-55 Rhino H.O.T.A.S. (Hands On Throttle and Stick) set for PC. MadCatz has designed this one to be both functional for flight sim fans and affordable, so you can scrap some bogeys without scrapping your wallet.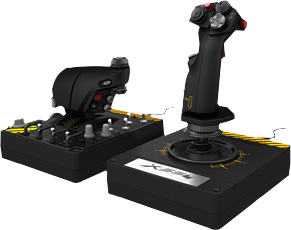 The X-55 RHINO is styled after modern fighter jet control systems and was built from the ground up to deliver a multitude of customizable options never before seen in an H.O.T.A.S. system. Whether flying a modern fighter, single- or multi-engine aircraft, or even a retro single-seat plane, the X-55 RHINO supplies all the control surface options required to achieve the exact level of aerial performance aspiring pilots demand. The X-55 RHINO features enhanced 16-bit hall-effect sensors in the axes, four swappable springs for the joystick so you can dial in your preferred stick tension, and twin lockable throttles with a friction adjustment knob that can be set on the fly.
As far as flight sticks go, this is a pretty complete package. I used to be a fan of the genre a while back (like, a long while back) and I definitely remember how expensive these rigs used to be, so it's great to see MadCatz releasing something that's a little more cost-effective for fans under the Saitek brand name.
If you haven't been paying attention, the company has been making some of the best PC and console gaming peripherals on the market over the last decade or so. Their R.A.T. and S.T.R.I.K.E. keyboards are some of the best of the best and their headset lines are top quality. MadCatz has even broken into the micro-console market with the M.O.J.O. (which looks pretty terrific). As for the H.O.T.A.S., this is a first for them as far as I can remember- but it looks like one heck of a first step.
There's no pricing as of yet, but again, MadCatz says it'll be well-priced. As to when you can expect to see the unit, it should be out in the first quarter of 2014 and you can sign up to receive an alert on when to buy (they also say there won't be a huge amount made available) right here.