The brand new soundbar from electronics maker Vizio looks to replace your living room TV's puny speakers with something that'll really shake the room.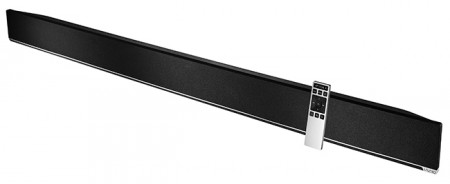 Probably one of the most overlooked elements in a good home theater, particularly in a gamer's home theater, is the sound. Sure most TV speakers will get the point across just fine, but if you want to actually be able to hear all of the subtle nuances in a score and appreciate all the work that went into the audio half of games (and movies for that matter) then you want a little something more. And even if you don't have the room for a big an lumbering 7.1 setup, you can still rock the room with a soundbar.
Soundbar's are low-profile speakers that act as a full sound system. They usually sit just underneath the TV or are mounted to the wall and can deliver rich sound that fills the room with bass that'll shake you up a bit too. And that's exactly what you can expect to get from the new Theater Sound Bar from Vizio.
The Theater Sound Bar has a 54″ length and is made to compliment larger TV sets of 55″ and over. Yep, these are your big boys, but more and more homes in the US and abroad are adopting bigger TV's to get a better experience out of their entertainment- why should the sound not match it? The Theater Sound Bar is pretty loaded in that regard too with three-channel audio with a center channel for clear dialog, a 'deep bass' pack built right in (so you don't need a seperate sub-woofer) and the ability to crank up to 103 db's. Oh, and those decibels are going to be nice and clear too as Vizio promises that you'll hear less than 1% total harmonic distortion coming out of this thing, which is pretty sweet.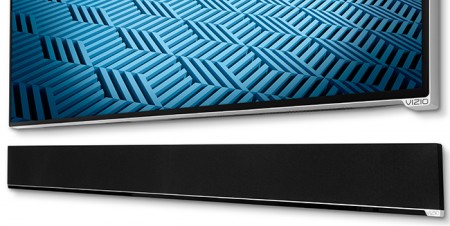 Even cooler, you can actually stream your audio from your phone (or anything bluetooth compatible) to the bar wirelessly. It's an elegant solution to easily port your tunes over to your home theater and Vizio is saying that it'll be near-CD quality, which is pretty terrific too.
The Theater Sound Bar is available right now on the company's website and will run you $299.99 USD. It'll also be rolling out to online retailers like Amazon.com, BestBuy.com, Costco, Costco.com, SamsClub.com, Target.com and Walmart.com soon too, if you prefer to shop with them. There's a lot more available than just the TSB too and if you enjoy your subwoofer and 5.1 speaker experience, Vizio has a soundbar that's compatible with both their satellite speakers and  wireless subwoofer that just might catch your eye. Cool stuff all around and perfect for that audiophile on your list this time of year.