You probably already know about the incredible Star Wars comic sale going on today (Black Friday) at Dark Horse Comics online store, but wait till you see what the publisher has planned for Cyber Monday…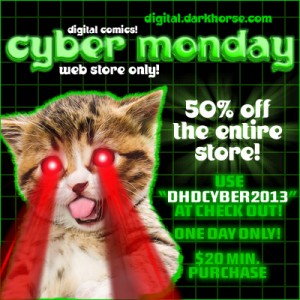 If you don't know, Cyber Monday is the somewhat lesser known brother of Black Friday and sees retailers discounting products in their online stores. The idea is that shoppers will head online and buy from work since the big holiday shopping weekend has passed and they can't make it out to the stores during the week.
And if, by some chance, you're in any way a fan of the excellent offerings that Dark Horse Comics puts out on a regular basis, then you're going to be one of those folks logging in this Monday. Why's that? Because everything in the store is half price. Everything. 50% off. Really.
All you need to do is spend $20.00 USD or over, which should be pretty easy, and then enter the code 'DHDCYBER2013' at checkout. Once you do that, Dark Horse will discount everything in your e-basket to half the usual price. The sale will last for 24 hours only and starts at midnight sharp on Monday the 2nd. If you're looking for where to find this pretty awesome deal, the Dark Horse digital storefront (and reader) is available through any web browser or the official Dark Horse app on iOS or Android.