Developer Volition announces two brand new contests to get fans in the spirit and details the latest dlc for the game, How the Saints Saved Christmas. Yep, this one's set to be the craziest, most Santa-filled downloadable content pack yet for one of the best games of 2013.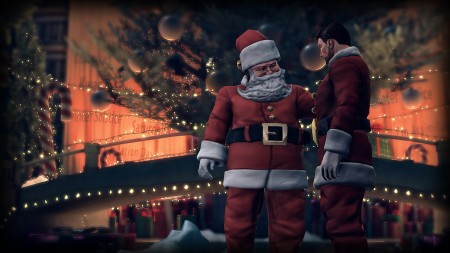 With a title like that, you just know there going to be a whole lot of gloriously cringe-worthy moments in the latest (and final) dlc pack for Saints Row IV- How the Saints Saved Christmas.
Santa is trapped inside the simulation, but the Scrooge-like boss of the Third Street Saints can't muster enough festive spirit to save him. Can the Saints help the boss discover the true meaning of the season in time? A holiday classic for the whole family.
No! No, no, no- that is most definitely not "a holiday classic for the whole family"… unless you have avery interesting family… Anyway, while the game might not be for the kiddies, it's sure to be more of what fans have come to expect from the fourth Saints Row title; that being fun. We reviewed the game when it released last Summer and loved every minute of it, so I can't imagine that this last expansion pack for SRIV won't be just as much fun, maybe even more so since we've now got the additional awesomeness of not only Santa Claus, but also a whole bunch of angry gingerbread men.
Look for How the Saints Saved Christmas to be on servers and ready to add onto your Xbox 360, PS3 or PC version of the game on December 11th. As for that contest I mentioned, The Saints Row Sing-A-Long Christmas Carol Contest is exactly what it sounds like.
Your task? You and how ever many of your buddies and/or family members as you can assemble need to get together and film yourselves singing a Saints Row-itized version of Jingle Bells. No, there are no lyrics preset for this- you need to come up with something, which shouldn't really be all that hard considering the game we're talking about here and the song is called 'Jingle Bells'. At any rate, after you record the video, you'll need to get it to the fine folks at Volition who'll be picking a winner from all the submissions. That golden victor will then be immortalized as a living Saint (no, I don't know what that means) and receive a special gift from the team. Oh, and extra points if you dress like a character from the game. Click here for the full rules and regs, just be quick as the contest ends on December 5th.
And speaking of those 'fine folks' at Volition, if you've ever wondered just how fabulous they all are over there, click here and be treated to a fantastic list of all the hideously terrible things that they've done this year. Think you know how they can get back on the straight and narrow (and back onto Santa's Nice List)? Then tell 'em and you just may win something. If they like your ideas, the developers will even act them out (on camera of course) in an effort to avoid coal and/or beatings this Holiday. This one ends on the 29th of this moth though, so you'll really have to put on some speed if you want to get your thoughts across to the bad little boys and girls at Volition. Lord knows they could use the help.