This stuff is still a ways off, but I defy you to not get excited about that Stay-Puft Marshmallow Man.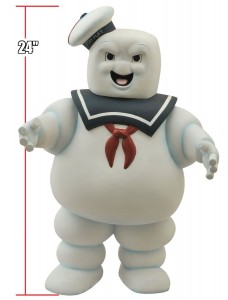 Most of what's here on the list hasn't even made it into industry tome Previews as of yet, but your local shop is probably already offering it thanks to Diamond's heads up. There's some seriously cool stuff on the way too, so you might want to break out the old wallet, head down to your LCS and get to pre-ordering to secure yours.
From Captain America: The Winter Soldier merch to classically cool stuff like Godzilla and that Stay-Puft dude, there's something for just about every type of sci-fi and/or superhero fan. Oh, and Cap fans take note- it looks like DST has outed longtime Captain America villain Batroc's involvement in the film.
Marvel Minimates Series 55 Captain America: The Winter Soldier Asst.– A Diamond Select Release! The next batch of Marvel Minimates is based on Captain America's third movie outing, Captain America: The WInter Soldier, and includes four different 2-packs: Stealth Uniform Captain America vs. Crossbones, Final Battle Captain America vs. Winter Soldier, Black Widow vs. Agent Sitwell and Falcon vs. Batroc. Each Minimate stands 2 inches tall, with 14 points of articulation and a variety of interchangeable parts and accessories. Exclusively at comic shops! Designed and Sculpted by Art Asylum! (Item #DEC131824, SRP: $9.99)
Marvel Select Captain America Movie Action Figure– A Diamond Select Release! Based on the new movie, Captain America: The Winter Soldier, it's an all-new Captain America figure in the Marvel Select scale! Standing approximately 7 inches tall, this figure depicts Cap in his new stealth uniform and features 16 points of articulation and his trademark shield. Only available at specialty stores! Designed and sculpted by Gentle Giant! (Item # DEC131822, SRP: $24.99
Marvel Select Captain America Movie Falcon Action Figure- A Diamond Select Release! The newest addition to the Marvel cinematic universe is Captain America's high-flying partner the Falcon, and now the Falcon is the newest Marvel Select action figure! Standing approximately 7 inches tall, this figure depicts the Falcon as he appears in Captain America: The WInter Soldier, and features 16 points of articulation. Only available at specialty stores! Designed and sculpted by Gentle Giant! (Item #DEC131823, SRP: $24.99)
Marvel Captain America's Shield Silicone Tray– A Diamond Select Release! Make any party cooler with another Marvel-superhero-themed silicone rubber tray from DST! Twelve tiny shields are waiting to be filled with ice, gelatin, or even chocolate, so you can have cool drinks and tasty snacks at your next Fourth of July picnic! It's the delicious way to pledge your allegiance to Captain America! (Item # DEC131821, SRP: $15)
Ghostbusters 24″ Evil Stay Puft Marshmallow Man Vinyl Bank– A Diamond Select Release! Choose the form of the Destructor! DST has taken their 24-inch vinyl bank of the Stay-Puft Marshmallow Man and given it an all-new "evil" face sculpt, revealing the malevolent presence of Gozer! This hard vinyl bank of the classic Ghostbusters character will hold a fortune in nickels, and tower over your other Ghostbusters toys! The bank has a coin slot on its back and an access door in the foot. Comes packaged in a clear polybag. Sculpted by Bill Mancuso! (Item #DEC131818, SRP: $125)
Godzilla 1989 Vinyl Bust Bank– A Diamond Select Release! Is he monster, or hero, or both? This 10-inch bank of the city-destroying and alien-fighting lizard called Godzilla is based on his original appearance in the 1954 movie that launched a film icon! Cast in sturdy vinyl, the bank features a coin slot in his back, as well as an access door in the base. Sculpted by Gentle Giant Studios! (Item #DEC131817, SRP: $23)
Batman Classic TV Series Batcave Granix Slate Artwork– A Diamond Select Release! When does a picture carry the most weight? When it's set in stone! You don't need to be the World's Greatest Detective to realize that this Granix slate artwork of the Dynamic Duo in their Batcave is the grooviest way to display your love of the Batman Classic TV Series. With a beveled edge that resembles the craggy caverns of the Batcave, this slate artwork measures 7.5″ by 5.5″, and includes mountings for desk and wall display. (Item #DEC131819, SRP: $34.99
Aliens Alien Head Metal Bottle Opener– A Diamond Select Release! In space, no one can hear you pop a bottle cap! The sci-fi classics Alien and Aliens are the latest inspiration for DST's line of metal bottle openers, and the first one out of the escape hatch is a full Alien head, whose jaws are just teh right shape to pry open a bottle of your favorite beverage! This 4-inch opener comes packaged in a collector case with a full-color wrap. (Item #DEC131820, SRP: $18)
Offered Again: Marvel Select Spider-Woman– A Diamond Select Release! Now endowed with super-strength, a bio-electric attack, and wall-crawling abilities, Spider-Woman's destiny led her to join the New Avengers. Standing 7″ tall, the Marvel Select Spider-Woman figure features a highly-detailed base, plus three partial figures of Hydra agents to create an action scene! Packaged in the Select line's trademark display packaging, with spine artwork. Sculpted by Sam Greenwell! (Item #DEC052708, SRP: $24.99)
Offered Again: Marvel Select Captain Marvel– He's been a Kree, he's wielded the power of the Nega-Bands, and he's even been a Skrull, but Captain Marvel just can't be kept down for long! Depicting the biggest Mar-Vell of the modern age, this seven-inch figure features multiple points of articulation and a detailed base complete with a crashed Skrull ship. (Item #AUG083643, SRP: $24.99)