Realta's rhythm game/guitar tutoring system takes the stage later this month with a full compliment of modern and classic hits.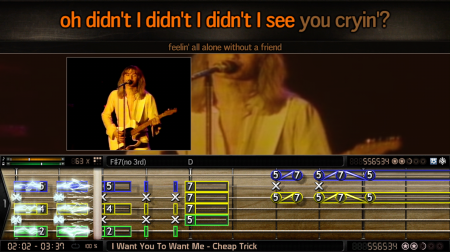 "Each and every song was handpicked for this game," says Jeff Marshall, Director of Artist/Label Relations and Content Licensing at Realta Entertainment. "BandFuse provides players with the ultimate rock experience; not only can players learn to play the songs they know and love, but the game also challenges experts and n00bs alike to become better musicians."
The whole rhythm genre has all but dried up outside of Ubisoft's Rocksmith so it's pretty neat to see the amount of work that Realta is putting into BandFuse. 55 songs total make up the track list and it's a pretty varied selection with starring tunes from the 'teachers' in the game like Bootsy Collins and Slash and stuff by Billy Idol and Pearl Jam all making the cut.
Songs From In-Game Legends
Slash "Black From Cali"
Bootsy Collins "Rock Bandit"
Five Finger Death Punch "The Bleeding"
Lynch Mob "Wicked Sensation"
Mike Ness/Social Distortion "Bad Luck"
Zakk Wylde/Black Label Society "Overlord"
BandFuse: Rock Legends Set List:
2000s
Stellar Revival "The Crazy Ones"
Halestorm "Love Bites (So Do I)"
Red Fang "Wires"
Shinedown "Devour"
Bullet For My Valentine "Tears Don't Fall"
My Chemical Romance "Welcome to the Black Parade"
Wolfmother "Woman"
All American Rejects "Move Along"
Children of Bodom "Are You Dead Yet?"
Fallout Boy "Sugar, We're Goin' Down"
Modest Mouse "Float On"
The Strokes "Reptilia"
The Distillers "Drain the Blood"
Maroon 5 "Harder to Breathe"
Blink 182 "All The Small Things"
Coldplay "Yellow"
Incubus "Drive"
Nine Days "Absolutely (Story of a Girl)"
1990s
Kenny Wayne Shepherd "Blue on Black"
Blur "Song 2"
Duncan Sheik "Barely Breathing"
Sublime "What I Got"
Alanis Morissette "You Oughta Know"
Bad Religion "Infected"
Pantera "I'm Broken"
Blind Melon "No Rain"
Dream Theater "Pull Me Under"
Pearl Jam "Alive"
Faith No More "Epic"
Jane's Addiction "Been Caught Stealing"
Megadeth "Hangar 18"
Testament "Souls of Black"
1980s
The Pixies "Here Comes Your Man"
Living Colour "Cult of Personality"
Grateful Dead "Hell in a Bucket"
Ratt "Round and Round"
Billy Idol "Rebel Yell"
Modern English "I Melt With You"
The Clash "Should I Stay or Should I Go"
Brian Setzer "Rock This Town"
Rick Springfield "Jessie's Girl"
Rush "Limelight"
Judas Priest "Breaking the Law"
'70s & '60s
Foreigner "Hot Blooded"
Blue Öyster Cult "Godzilla"
Cheap Trick "I Want You to Want Me"
Heart "Barracuda"
Kansas "Carry on Wayward Son"
Santana "Black Magic Woman"
Not too shabby right there. BandFuse is set to hit the market for the Xbox 360 and the PS3 on November 19th- just in time to bust it out at those Holiday parties.