With a cool billion dollars under its belt, Activision talks up its latest blockbuster.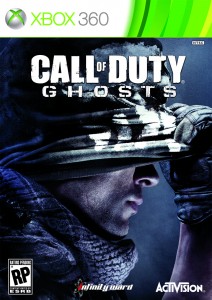 There's little that's bigger in a calendar year (as far as gaming goes) than the release of the latest Call of Duty title and this year was no different with Call of Duty: Ghosts putting up sales in the $1billion range in its opening week.
"Call of Duty is by far the largest console franchise of this generation," said Bobby Kotick, CEO of Activision Blizzard. "More people have played Call of Duty this year than ever before, logging four billion hours of gameplay. And in the last 12 months, Call of Duty®: Black Ops II, including its digital content, generated more revenues than any other console game ever has in a single year. Although it is too early to assess sell-through for Call of Duty: Ghosts, it's launching a ta time when the franchise has never been more popular."
And those numbers are sure to get higher -much higher- as the game is also one of the top reserved titles for both the Xbox One and PS4 consoles that are due to arrive later this month. Two more consoles means a whole lot more sales for the behemoth that is Call of Duty, but that's just the start.
Infinity Ward's Call of Duty: Ghosts hit the number one spot on Xbox Live almost immediately after opening up to players at some 15,000 midnight openings and has set a "new high water mark for average player session length" according to the publisher. CoD is so massive that it even hit dominated Twitter with a 20 time trending count in the last 24 hours.
As massive as all this is, it honestly isn't the biggest of news to anyone who regularly pays attention to the gaming landscape. Call of Duty is flat out one of the biggest and most bankable franchises in gaming, the Ghosts is breaking records and hitting high spots is pretty much par for the series' course.
Where Activision, Infinity Ward and Treyarch (Black Ops II) go from here is anyone's guess. Though it's probably safe to say that it'll sell well.