Mobile mega-hit Doodle Jump leaps onto Xbox Live with a Kinect-ed game that just might be more fun than the original.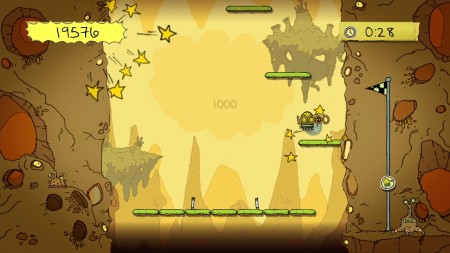 If you're one of the billion or so people who've played one of the plethora of mobile versions of Doodle Jump  that are out there in the ether, then I probably don't have to do too much to convince you of how much fun the simple 'vertical platformer' is. Basically your maneuvers in the game consist of bouncing up (and up and up and up…) while blasting 'nose balls' at baddies.
The Xbox Live version of the Doodle Jump that was released this past Summer is more or less the same thing, but with a few big additions that make it feel fresh, honestly more engaging than the original ever did… and somewhat tiring
Chief on the list of newness is that this actually feels like a full game instead of a casual experience. In the mobile DJ, the Doodler (your character) just hopped up and shot boogers at everything into infinity. The point was really raising your score (something few games do anymore) and seeing how far you could make it into your chosen level. Levels, while we're on the subject, were really just different backgrounds that were more or less interchangeable as they were solely cosmetic.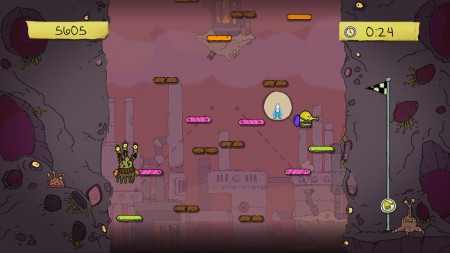 DJ on the Xbox 360 differs greatly here as you'll find actual stages to play through and even boss characters to do battle with. I had never played the mobile version as I was turned off by the casual feel of it (well, the idea of the casual feel of it), but that's not the case here. True, Doodle Jump on the Xbox definitely doesn't play like classic side-scrollers do since it's vertical in its flow, but it's way more a platforming experience than the more endless-runnerish mobile edition.
Then there are the Kinect controls. I'm honestly not the biggest Kinect fan either, but I actually liked what developer Smoking Gun Interactive did here in implementing the motion gaming peripheral. In order to play, you move from side to side guiding the Doodler up and through the level (he bounces automatically). Yes, you need to stand up, and yes it does get tiring. Normally, I wouldn't complain about the Kinect-ed nature of Doodle Jump, but it's a movement intensive game and there are really no respites as you play.
Aside from the movement, everything else is controlled by moving your arms and legs too. Now, I actually had a lot of fun with the game, but it does wear you out if you play for an extended period of time and that's a bit of a drag. Having Kinect is a great gimmick for DJ, totally makes sense and there's no way I'd say that the game should have been made solely for a controller- it's just that I wish there would have been an option to use one.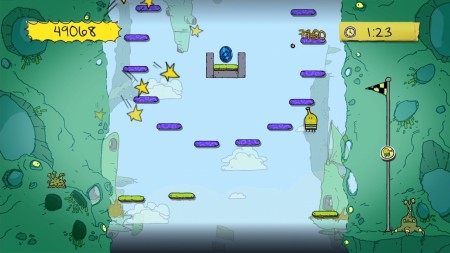 As far as looks and sound, this is Doodle Jump. If you've ever played a version of it before, then you know what to expect from it's cute, almost homemade aesthetic. Even though there are some new looks, including a goal post that shows you how far you are from the end of the level, this is more or less the same game- not that that's a bad thing at all. One of my favorite things about DJ in general is its presentation and it thankfully translated quite well onto the Xbox.
Final Thoughts
I had a way more fun time with Doodle Jump Kinect than I thought I was going to.
As someone who wasn't a fan at all of the mobile edition and doesn't dig Kinect (or anything 'motion gaming' really), I not only had a fun time, but really got into Doodle Jump in general. In fact, maybe one of the best things I can say about DJ on Kinect is that it got me to spring for the iOS version (which is ultra-addictive by the way) so I could play on the go.
If you're looking for something to play at a party (especially with the Holidays coming up) Doodle Jump on Kinect is a great choice. It's easy to get into and play (though tough to beat) and provides no end of enjoyment from mocking others who just can't make it paast certain segments of the harder courses.
Just uh, expect to get a little winded.