The peripheral company has a monster selection of Skylanders goodies in stores now.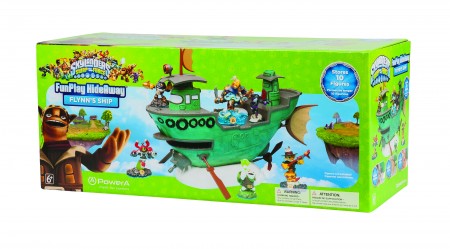 Skylanders is one of the biggest properties on the planet as far as gaming goes and Power A has a lineup that's set to deliver something for pretty much everybody. Controllers and storage (storage, storage) options are givens, especially the storage options, but the company actually has some very cool looking playsets ready and waiting at Toys R Us stores.
It makes a lot of sense since we're talking about a videogame that incorporates actual real world toys, but I don't think I've ever seen settings made available from the brand before. You can grab either Flynn's ship or a replica of an island from Skylands itself right now as TRU exclusives- and these not only look good on the shelf, they store your Skylanders toys too. Neat stuff.
Here's a rundown of what's available now from Power A:
FunPlay HideAway Flynn's Ship ($49.99 USD) and FunPlay HideAway Skylands ($69.99 USD) double not only as action-packed playsets but also as storage for up to 20 Skylanders figures. Fans of the series will instantly recognize these iconic images and enjoy playing with and displaying their Skylanders figures on the playsets-both Toys"R"Us exclusives.
Skylanders Pro Pack Mini™ Controller Set for WiiTM/Wii UTM ($39.99 USD) – The award-winning Pro Pack Mini Controllers are back, this time with colorful Skylanders SWAP Force colors and graphics. These compact and comfortable controllers are a great addition for any Skylanders Wii fans.
Skylanders Mini Pro EX Wired Controller for Xbox 360TM ($39.99 USD) – With a compact and ergonomic design, these Xbox 360 controllers feature Skylanders SWAP Force graphics and colors.
Skylanders Element Stack & Snap Case ($24.99 USD) – These cases capture all the elements of Skylanders, holding up to 15 figures, with the ability to stack together for easy transport and storage.
Skylanders Tackle Box Storage ($24.99 USD) – The Tackle Box stores up to 20 figures in this stackable storage solution that latches together for ease of storage or transportation. The semi-translucent cover allows gamers to view their collection at a glance without removing the lid.
Skylanders Over-the-Door Storage ($29.99 USD) – The ultimate storage solution for the hardcore Skylanders fan. Stores up to 60 figures, the Portal of PowerTM, game discs and trading cards-all accessible while hanging over a bedroom door.