Well, new in the old sense. The Quantum and Woody that's coming in the just announced Q2: The Return of Quantum and Woody is actually the original team from way back in the duo's Acclaim Comics days, pre-Valiant rebirth.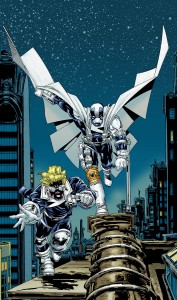 It's an interesting move, but I doubt fans of the World's Worst Superhero Team will mind all that much since, in the end, it's more Quantum and Woody- and who'd argue with that? The only reason I say it's odd (since the characters are so popular) at all is because Quantum and Woody have a pretty big hit on their hands already with their new ongoing series that takes place in the current Valiant Universe.
This new mini? It's the original characters from back in the Acclaim Comics days. I guess you could kind of think of it like an alternate universe Q&W which, in the end, is still pretty much Q&W.
Whatever happened to the world's worst superhero team? Twenty years past their prime, the unlikely crime-fighting duo known as Quantum and Woody have long since parted ways and retired…until a middle-aged Quantum suddenly reappears with a brand-new teenage partner—and his wisecracking ex-best friend gets mad. Now Woody is out to break up the all-new, all-different Quantum and Woody and put an end to Quantum's recklessness and child endangerment…just as Quantum sets out to bring down a shadowy, globe-spanning agency of freelance spies and assassins. As Quantum's plan crumbles right through Woody's fingers, will the former friends set aside their differences…and their age…and their numerous health difficulties…to join forces one last time without driving each other crazy?
Also very cool is that the original creators of the characters, Christopher Priest and M.D. Bright, are handling the book and apparently, things haven't changed all that much between the two.
"Soon as Doc and I started hashing out the plotline, we got into a huge argument. It was just like old times. Happy to be back on the goat," said Priest.

"It's enormously exciting to have Priest and Doc return to the iconic characters they made famous," said Valiant Executive Editor Warren Simons. "Over the years, the legend of the original series has only grown, and they're about to unleash a fearless new chapter in the lives of Quantum and Woody."
Expect to see the five issue mini-series hit stands some time next year with Q2: Quantum and Woody #1 from Valiant Comics.