Matt Wagner's uber-assassin is about to find himself face-to-face with the hero with the power to cloud men's minds.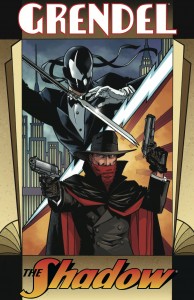 There are few heroes that've been around for as long as The Shadow. Straight from the golden age of comic book pulp and noire sensibilities, Lamont Cranston has held fast as an iconic version of the dark hero that strikes from the shadows.
Grendel, Hunter Rose to be precise, is both an assassin and a criminal mastermind. First on the scene in the 1980's the villainous Grendel has proven a fan favorite in almost all of his incarnations, but as Rose in particular.
"Ever since the smash success of my two previous crossover events (with Batman), I've had many offers over the years to see Grendel cross blades with a varied host of other characters," comments Grendel creator, Matt Wagner. "But none of those opportunities ever excited me as much as this possibility. I've been a huge fan of The Shadow for many, many years and my love of the character finally saw fruition when I got the chance to literally re-define his origins by writing The Shadow: Year One for Dynamite. To have the chance to both write and draw The Shadow facing my own creation is something of a dream come true! It's also adds yet another instant classic to my long legacy of Grendel projects with Dark Horse Comics."

"I'm looking forward to this project for many reasons, not the least of which is Matt Wagner's return as both writer and artist of Grendel" said Dark Horse president and publisher, Mike Richardson. "The fact that I share Matt's enthusiasm for one of the greatest fictional characters of all time, The Shadow, makes it all the more exciting. Dark Horse and Dynamite are proud to announce this great comic series from one of comics' premier creators."

"I've known and been a fan of Matt's since Grendel first appeared in the early '80's, and one of the first prestige comics I bought was the Terminator by Matt with James Robinson. Matt's an incredible story teller and has written three series for Dynamite, including The Shadow: Year One" said Dynamite publisher, Nick Barucci. "When the idea for a Grendel/Shadow cross-over was suggested, and Matt stated that he would write it AND illustrate the series in a Prestige format, let's just say that you can't quantify the excitement in our offices. This is such an incredible series, and the first of more projects that Dynamite and Dark Horse are announcing."
How the two characters will meet and just what'll happen when they do (I predict fightin') is still a little bit of a secret all by itself at the moment. All Dark Horse and Dynamite Comics are saying is that Grendel finds himself in possession of a mysterious artifact that somehow leads him to the heart of a New York steeped in violence and crime- and a Shadow that protects it.
If you can't tell, I LOVE the Shadow. He's easily one of my favorite comic characters of all time and so cool that not even a ho-hum movie from Alec Baldwin can take him down. Dynamite has a great run going right now with the character and to see him crossed over with Dark Horse's Grendel is just too cool. This one is going on the old calendar.
Grendel/The Shadow will span three issues with 48 pages each. Look for it some time in 2014.