Yes there will be a 'season pass' for Warner Brothers' upcoming Batman prequel, Arkham Origins. What's in it? A whole mess of skins (including two exclusive) and some story content that you probably won't want to miss.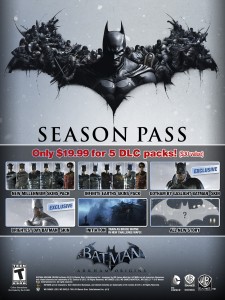 Both the Gotham by Gaslight skin and Brightest Day skin are exclusive to Season Pass subscribers, but you'll find that there's a lot more in store for owners of Arkham Origins than that. The New Millennium and Infinite Earths skin packs both will contain a pretty impressive total of five Batman skins plus one Robin skin for a total of ten Dark Knight variations and two for the Boy Wonder. Then there's the Initiation.
Initiation casts players as Bruce Wayne, not simply without his Bat-suit, but before he even became Batman. You'll play as Wayne as he heads into his final test to prove himself worthy in front of his greatest teacher, Kirigi. Yes, Kirigi- remember, this is more or less the comic book version of Batman we're talking about in Batman: Arkham Origins, not the movie version.
There's also one last piece of DLC included in the set, but Warner Bros isn't talking about just what it might be as of yet. All we know is that it'll be a 'story' based "campaign". That last word there, "campaign", kind of alludes to this being more than just a simple add-on and more of a beefy gameplay experience for gamers and Bat-fan, but we shall see when more's revealed down the line.
As for now, the Season Pass will cost you $19.99 USD (and is a $30.00 value) and will be available at Arkham Origins', launch. The game hits retail for the Xbox 360, PS3, Wii U and PC on October 25th.