Nintendo announced recently that they'll be offering the upcoming Wii Fit sequel Wii Fit U, as a free trial download that you'll get to keep with the purchase of a Fit Meter.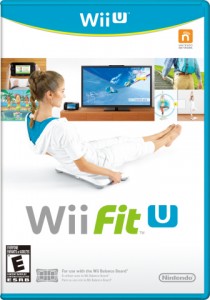 All you need to do to try out Wii Fit U is download the 'game' on your Wii U. As long as you've got a Wii Balance Board, you can then play to your heart's content throughout the month. This is the full game too, so you'll have access to all 77 of the activities (with 19 new ones) and exercises that Wii Fit U offers- and all for nothing.
"Wii Fit U is all about 'fun fitness' for everyone in the family," said Reggie Fils-Aime, Nintendo of America's president and COO. "With this special offer, Nintendo is making it easier than ever for families to get active and stay active, making now the perfect time to upgrade to Wii U. This is another example of the kind of value and variety that only Nintendo can offer."
The free trial terminates at the end of the month, but you can actually keep the game as long as you pick up a Nintendo Fit Meter and sync it to your Wii U console. Once that's done, the game will be unlocked and you can treat it like any other digitally downloaded title you have on your hard drive.
The Fit Meter runs $19.99 USD and will be available November 1st and tracks the user's daily activity. The Meter then syncs up to the Wii U and gives Wii Fit U a better idea of just what it is you do all day- as long as it's not solely sitting in one place. It's all a part of Nintendo's initiative to get players more active and really into their health, which is a very good thing indeed.
Available on the eShop for the Wii U starting on November 1st (the same date as the Fit Meter's retail launch), the trial copy of Wii Fit U will stay available as a free download until January 31st, 2014 (which is perfect for those New Year's resolutions). Download the game anytime between those dates (even on the 31st) and you'll get to keep and play for one month, free of charge.
The actual boxed edition of Wii Fit U will hit the market on December 13th and the digital version isn't scheduled till February 1st, 2014. With the launch still a way's off, you might want to give some serious thought to that download/Fit Meter combo if you're serious about digging in and getting fit with your Wii U.