Diamond Select Toys announced a plethora of Marvel, Star Trek and Universal Monsters stuff that'll be on the way to comic shops next year.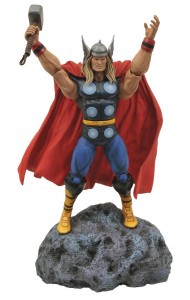 It feels more than a little weird to be talking about 2014 product, but the fact is that we're almost there. It's mid-September already and in just a few weeks time we'll all be donning costumes and carving jack o' lanterns- and then (before your know it) we'll be smack dab in the middle of the Holiday Season. So with that in mind, talking about the new Marvel Select figures on the way for 2014 doesn't seem so odd.
And honestly, I kind of want to talk about them, because I'm seriously liking what's coming. Not only will Selects fans be getting a classic version of Hawkeye in 2014, but the mighty Thor is on the way too. Like Minimates? How about the Hall of Armors box set?
Sci-fi more your thing? DST has a brand new Battle Damaged Enterprise B as the ship was seen in Star Trek Generations. And if you're into things that go bump in the night (we were just talking about Halloween after all), there's more Universal Monsters goodies on the way too.
So without further ado, here's what's on tap for 2014:
Marvel Minimates Iron Man 3 Hall of Armor Box Set – A Diamond Select Release! Designed by Art Asylum! In Iron Man 3, Tony Stark's hall of Iron Man armors met an untimely end, but now it lives on, as the biggest Minimates box set in ten years! From the jerry-rigged Mark 1 to the invasion-stopping Mark VII -– plus the self-assembling Mark 42 – each Stark-worn iteration of the armor from the Marvel films is here, as well as new figures of Tony Stark and Pepper Potts! All ten Minimates are packaged together in an extra-long window box, and each Minimate measures 2 inches tall with 14 points of articulation. It's an instant Iron Man collection for new and old fans alike! (Item #OCT131844; SRP: $50.00)
Star Trek Electronic Battle Damaged Enterprise B – A Diamond Select Release! Designed by Art Asylum! Red alert! Red alert! The U.S.S. Enterprise NCC-1701-B has taken a direct hit from the Nexus Wave, and all decks have suffered major damage! The Excelsior-class starship is back with all-new paint deco to replicate its on-screen damage from Star Trek: Generations! Packaged in a "Try Me" window box so customers can test its movie-accurate lights and sounds, the Enterprise B measures 16 inches long and comes with an adjustable display stand. (Item #OCT131845; SRP: $60.00)
Marvel Venom Metal Bottle Opener – A Diamond Select Release! Thirsty for vengeance? Have a cool beverage instead, courtesy of this solid metal bottle opener in the shape of Eddie Brock, a.k.a. the Spider-Man villain called Venom! Just wrap his teeth and tongue around the bottlecap of your drink of choice and voila – that thirst goes away, perhaps replaced by a hunger for juicy brains. Measuring just under 4 inches tall, this metal opener has a polished chrome finish, as well as magnets on the back to keep him on your fridge, plotting revenge. Comes packaged in a collector case with full-color slipcover. (Item #OCT131849; SRP: $18.00)
Universal Monsters Bride of Frankenstein B&W Bust Bank – A Diamond Select Release! Sculpted by Gabriel Marquez! The Bride of Frankenstein is back in black and white! DST has gone old-school and drained the color out of their 9-inch portrait of his Bride! With an all-new grayscale paint scheme based on the original black-and-white film, the Bride still features collectible-quality paint and sculpting, as well as a conveniently placed coin slot in back. (Item #OCT131846; SRP: $22.99)
Universal Monsters Wolfman B&W Bust Bank – A Diamond Select Release! Sculpted by Eli Livingston! What's black and white and furry all over? The Wolfman, of course! This highly detailed vinyl bank of one of the most famous movie monsters has just gotten a silver screen make-over, in lush grey tones to re-create the look of the Universal Studios film! With a coin slot in his back and an access door in the base, this 8-inch licensed portrait of Lon Chaney is now more screen-accurate than ever! (Item #OCT131847; SRP: $22.99
Marvel Minimates Age of Ultron Box Set – A Diamond Select Release! Designed by Art Asylum! Ultron has taken over the Earth, and only the greatest heroes of the Marvel Universe can stop him! …Or can they? This box set based on the recent Marvel crossover event features four characters based on the series: Iron Man, Nick Fury, Angela and a futuristic three-armed Ultron! Each Minimate measures 2 inches tall with 14 or more points of articulation and a variety of interchangeable parts and accessories. Packaged in a four-color window box. (Item #OCT131843; SRP: 19.99)
Marvel Select Classic Thor Action Figure – A Diamond Select Release! Sculpted by Gabriel Marquez! From the halls of Asgard and the pages of some of the greatest comic books ever written steps the mighty Thor! The hammer-wielding Avenger has returned to the Marvel Select line in his classic incarnation, as a fully articulated 7-inch action figure with 16 points of articulation! This Thor figure includes his hammer Mjolnir as well as an asteroid display base, all in the stylish Select packaging. (Item #OCT131850; SRP: $24.99)
Marvel Select Classic Hawkeye Action Figure – A Diamond Select Release! Sculpted by Jean St. Jean! The eagle-eyed Avenger Avenger has returned to the Marvel Select line in his classic incarnation, as a fully articulated 7-inch action figure with 16 points of articulation! This comic-based Hawkeye figure includes his bow, multiple arrows (including one with the Wasp perched on it) and a detailed display base featuring the fallen form of Ultron. All are packed in the famous Marvel Select display packaging. (Item #OCT131851; SRP: $24.99)
Tarot Pooka Goblin Cat Plush – A Diamond Select Release! Every witch needs a familiar. Now, from the popular comic book Tarot, Witch of the Black Rose comes Pooka, Tarot's pet goblin cat! This life-size plush cat measures approximately 16 inches long (with tail) and has a pair of goblin wings sprouting from its back and a winged mouse in its paws! (Warning: Stuffed animals do not fly.) A fitting companion for cat-fanciers and elemental sorceresses alike! (Item #OCT131848; SRP $29.99)