The demo for Konami's Pro Evolution Soccer 2014 is up and ready for download on the Xbox 360 and PS3.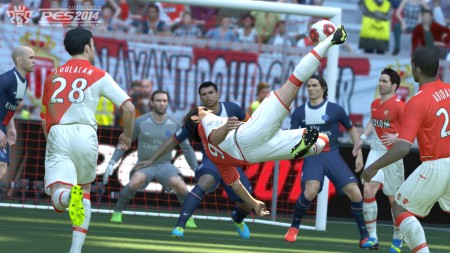 Soccer fans, you might want to get to downloading sooner than later as Konami promises that PES 2014 is a pretty big jump from last year's model. Along with using the stunning FOX engine for it's visuals, PES 2014 incorporates new technology like TrueBall Tech for more realistic ball-movement and TeamPlay for better AI. All in all, there's a lot of 'new' for fans to dig their spikes into.
PES 2014 marks major advancements for the popular soccer game, with the inclusion of Konami's proprietary developed by Kojima Productions, FOX Engine in their overhauled soccer-specific production system. Utilizing this new technology allowed the PES Production team to focus on recreating many of the tangible skills of your favorite players and teams, such as ball movements (TrueBall Tech), and sophisticated AI (TeamPlay). Fans will also see personalized animations and celebrations (PES ID) to bring their highlights to life. Finally, the Heart system will bring intangible elements, such as stadium crowds and player energy in to the game dynamic. This will play a larger impact on the momentum of the match, allowing anything to happen over the course of a match.
The demo itself will teach players the basics of the new control setup as well and features 11 playable teams including Bayern Munich, Manchester United, Germany, Italy, Santos FC (BRZ), Boca Juniors (ARG), Colo Colo and a quartet of other teams from the 'South American' region.
The demo is available right now on Xbox Live and the PSN and the full PES 2014 game will be available at retail next week- on September 24th.