Cut right from the streets of Liberty City (and now Los Santos), the Bravado Banshee is the "a symbol of the ultimate American sports car". And now it's real. Oh- and you could win one.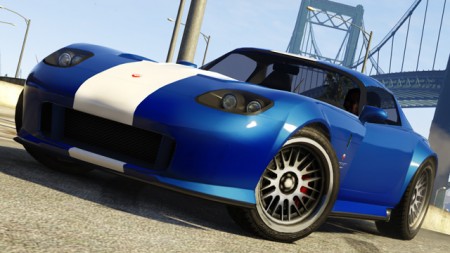 Straight from the garages of the fine car-creatin' folks at West Coast Customs comes the Bravado Banshee. First seen in the opening moments of the crime-classic Grand Theft Auto III, the Banshee is a staple of the GTA universe and one of the most recognizable cars in the game.
As it turns out, it's not all that easy to build a car from a video game either as the famed garage had to do one heck of a lot of customizing to make this bad boy.
Significant work went into creating this real world version of the 2013 model featured in Grand Theft Auto V. Utilizing state-of-the-art fabrication technologies, molds for the exterior were cut and machined piece-by-piece for the high performance base vehicle. With these molds each panel was laid out by hand to create an entirely new exterior resulting in a screen accurate reproduction of the Banshee.

Referencing the model and textures of the in-game car, the interior was handcrafted and stitched to capture the look and feel of its detailed cockpit, with seats upholstered and embroidered with the Banshee name and insignia. The dashboard, door panels and center console were reconfigured and finished with carbon inlays. And finally, a multi-speaker premium sound system was installed before giving it the iconic metallic blue exterior complete with ice white racing stripe.

The result is a one-of-kind supercar worthy of representing the Banshee's heritage and a tribute to some of the deep customization options you'll find in the Los Santos Customs shops of GTA V, where you can equip and style your vehicles with a wide range of visual and performance-based enhancements.
And as if that's not enough GTA-cool for you, gaming retailer GameStop is giving away one of these hotrods as a part of their PowerUp Rewards Epic Rewards Giveaway. You can click here for more info on that, and feel free to oagle the pics below for a detailed look at this mean whip.
Grand Theft Auto V releases on September 17th for the Xbox 360 and PS3.