Atlus' classic turn-based strategy title Stella Deus: The Gate of Eternity is now available for purchase on Sony's download storefront. Update: Trailer added for visual enjoyment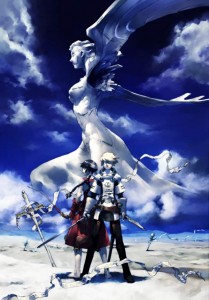 A cult favorite, Stella Deus first appeared on the Sony PlayStation 2 back in the 2004. The tactical RPG amassed a legion of fans thanks to its impressive hand-drawn looks and neat medieval/sci-fi storyline.
With an impressive 21 characters to recruit into your game and about 50 hours of playtime, Stella Deus: The Gate of Eternity has more than enough going for it to keep you occupied for a good ling time.
Team management and item fusion all matter in creating an effective strategy to save the world of Solum from the dreaded Miasma – a mist that destroys all life. The engaging storyline pits the soldier Spero, the shaman warrior Linea, and a small band of warriors against the various factions who all have their own designs for stopping the Miasma.
You can open the gate yourself right now as Stella Deus: The Gate of Eternity is available now on the PSN for $9.99 USD.