The Muppets have seen a pretty big bump in popularity over the last few years and fans looking for an all-encompassing volume should look no further than the new Muppets Omnibus Hardcover.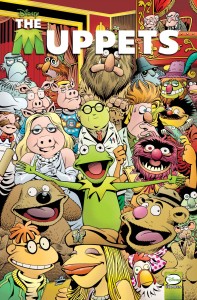 The name Roger Langridge might not be one that you know off the top of your head, but the scribe has written more than a few award-winning adventures of Jim Henson's creations in the comics world. If you're a fan of Kermit or Miss Piggy, then chances are, you already know the man's work from books like The Muppet Show, The Muppet Show Comic Book: The Treasure of Peg-Leg Wilson, The Muppet Show Comic Book, and The Muppets. The new Marvel Comics published tome entitled The Muppets Omnibus collects all of those into one book that fans of felt probably won't want to miss.
"I'm extremely proud of the work I did on the Muppet Show comic books and thrilled to hear that they'll be available soon in this long-lasting format," said Langridge. "This is one of those rare cases where corporate imperatives neatly intersected with a cartoonist's own interests and passions, and I'm pleasantly surprised to hear that Marvel thought my efforts were worth commemorating with such a prestigious edition."
Check out the Muppets Omnibus Hardcover from Marvel Comics, hitting shelves some time soon.