Iwata is back, and with more Nintendo news to bring you. Today he gives us some more Sonic Lost World footage, as well as further details on games we've all been waiting for.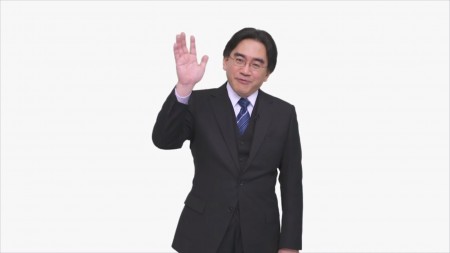 The Nintendo Direct starts off with a bang as we get some fresh new footage of Sonic Lost World. Here we see Sonic using the yellow wisp to dig through the ground in Desert Ruins, as well as some fast paced action on the Wii U version. We even get to see some of the 3DS version, with Iwata mentioning that you can use both the Wii U and 3DS games together.
There's also a quick glimpse of the Deadly Six once again, only this time they're facing off against Dr. Robotnik, with an army of Badniks at his side. Sonic Lost World will be released October 22nd for the Wii U and Nintendo 3DS.
Rayman Legends is the next game to be shown, and the game looks as gorgeous as ever. Coupled with some some more gameplay, we get a glimpse at how the Wii U gamepad will be used in Rayman Legends. A second player can make use of the gamepad by sliding the touch screen, getting rid of obstacles or controlling various devices that you'll come across while playing. Iwata also mentions that you'll be able to have access to various levels from Rayman Origins as you further progress through the game, unlocking them as you go along.
What is arguably the most interesting feature in this version of the title, is the exclusive Mario and Luigi costumes that both Rayman and Globox get to wear. Rayman Legends launches September 3rd for the Wii U.
Next we have Art Academy Sketch Pad, which was briefly announced on E3. You'll be able to share the art that you created with the Wii U gamepad on Miiverse. There's going to be a Miiverse community specifically devoted to Art Academy, which will become available after the game is released. Art Academy will come out on August 9th for the Nintendo eshop.
Eric Peterson from the Treehouse makes an appearance after Iwata finishes up his round of news. We get an even closer look at Mario and Luigi Dream Team.  Peterson briefly explains the badge system, and how you're capable of combining them to utilize both in battles. You can also play some minigames known as challenges, which can be used to test out some new abilities, or your own personal skills.
You can even earn some new items for completing these challenges. Another neat feature is the hint system that appears when you lose a battle; if you choose to try again you'll be given tips on how to survive the next time you play. You can also choose to play again on easy mode if you lose a battle. Mario and Luigi Dream Team will be launching August 11th in stores and on the eshop.
Pokemon Rumble U receives even more exposure. Peterson explains the battle system, noting that can battle in various arenas with toy pokemon. You'll be able to befriend a few pokemon too, but only if you defeat them in battle. There are 70 stages to fight your way through, and 649 toy pokemon to choose from. Pokemon Rumble U will be coming to the eshop August 29th.
Summer Carnival '92: Recca, a very rare and challenging shmup for the Famicom, will soon be available to download on the eshop. Designed for a Japanese games festival in 1992, this game was known for its spectacular graphics, and punishing difficulty. It's a top down shoot'em up developed by Naxat Soft, originally only released in Japan. Those of you that have been pining for this game will finally be able to get your hands on Recca when it launches on the 3DS eshop.
If you've been waiting for some more NES games to arrive on the 3DS eshop, then you'll be happy to know that Donkey Kong, Tecmo Bowl, and Super Mario Bros 3 have been announced.
Professor Layton and the Azran Legacy is up next, and we're given a brief look at some of the beautifully crafted locations in the game. What is perhaps the most reassuring news for many fans is the announcement of Professor Layton VS Phoenix Wright: Ace Attorney's localization. In case you aren't familiar with this particular game, it's a cross over of the Professor Layton and Phoenix Wright series. This title has been on the wish list of players who have been wondering if it would ever make it to the west. Fans can breath easy knowing that it will be coming in 2014.
Iwata comes back to share some more news, this time about The Legend of Zelda: A Link Between Worlds. This time we get a more extensive look at the gameplay; with Link's ability to turn into a drawing, as well as other features displayed, such as dark world. Iwata explains that this game is set many years into the future, and that the Link you'll be playing as is different than the one featured in the more recent Zelda games. A Link Between Worlds will be coming out this November.
Following a Link Between Worlds is The Legend of Zelda: The Wind Waker HD. Various locations are presented, and they look great. The HD touch ups that the developers have applied improve much of the environments in the game. There's some heavy use of shaders and bloom lighting, with character models improved as well. In addition, some of the gameplay has been revised, with the end game collection given minor tweaks. Wind Waker HD will be coming out this October.
Be sure to check out the Wonderful 101 Direct this Friday at 7 PM PT.