The third entry in Nintendo's popular Pikmin series drops onto Wii U consoles this coming Sunday as the first in a lineup of Wii U heavy-hitters scheduled to hit the console before 2013 comes to a close.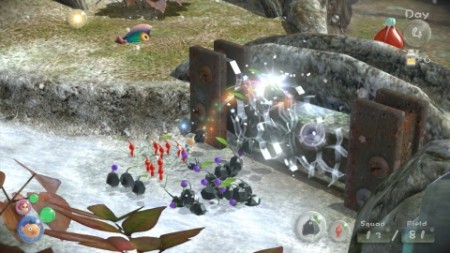 To say that Pikmin 3 is a 'long awaited' game is probably an understatement. The RTS/action title is a major draw for fans and undoubtedly be one of the biggest games to hit the Wii U since the console released last Holiday season.
Pikmin, as a series, was of course dreamt up by none other than the creator of Super Mario, Donkey Kong and The Legend of Zelda- Shigeru Miyamoto. It hasn't been around nearly as long as Miyamoto's other franchises, launching on the GameCube in late 2001, but Pikmin has nonetheless earned a spot as one of industry legend's best loved creations and one of the biggest titles on the Nintendo roster.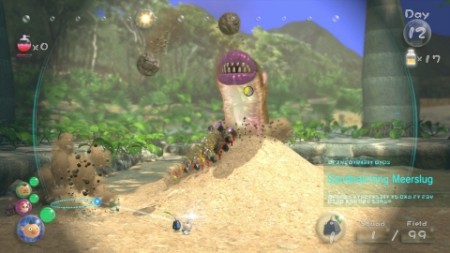 Pikmin 3 keeps much of what fans loved about the first two games in the series, but adds in some new elements like the three new playable characters and all-new storyline.
Pikmin 3 tells the story of three space explorers – Alph, Brittany and Charlie – who crash land on an alien planet and must collect fruit for their starving home planet. To accomplish their goal of collecting fruit, the explorers must gather and lead an army of different Pikmin creatures, battle the local wildlife and work to solve puzzles, all before the sun goes down at the end of each day.

There are five types of Pikmin, and each has a unique ability: Red Pikmin are immune to fire, Blue Pikmin can survive in water and Yellow Pikmin can withstand electricity. New Pikmin types appearing for the first time include Rock Pikmin, large Pikmin that can break objects and inflict more damage when thrown; and Winged Pikmin, a pink variety that can fly and carry items above certain obstacles. Players must strategically use the different Pikmin types to solve puzzles, overcome obstacles and fight in boss battles.
In addition to the story mode (which is still the meat and potatoes of the game) Pikmin 3 offers both single and multiplayer Mission Modes and Bingo Battles. Mission Modes are for 1 or 2 players and get gamers competitive as they'll gather treasure and take on enemies and bosses for points. In Bingo Battle, two players go head to head as they collect items to complete four in a row sequences in an "on screen bingo card". Keeping with the 'games of chance' theme, you can also spin a roulette wheel to get more Pikmin for yourself or smash your enemy's forces with giant boulders. As a little bonus, the white and purple Pikmin from Pikmin 2 will also appear as exclusive characters in these bonus modes.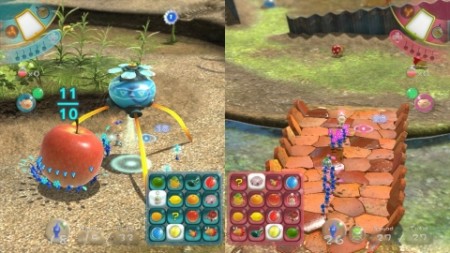 As for that famous controller, the Wii U's GamePad is used as a map of the game world in Pikmin 3 and gives players a top-down view on the action. Much cooler than that though is that the Pad can be switched to a first-person view so you can see from the eyes of one of your Pikmin and take snapshots of the planet's surface. These shots can then be posted to Miiverse and shared with other players.
So lots of new stuff to like about the third Pikmin tale. Check it out on the Wii U in both digital and physical flavors when it drops this Sunday from Nintendo.