The man out of time is making the jump from cartoons to comics in a new series that will see the samurai continue his quest to get home.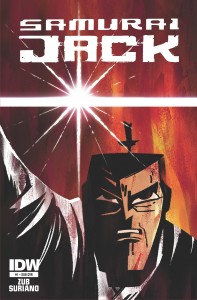 One of the most stylish and mature cartoons that I can remember in recent years, Genndy Tartakovsky's Samurai Jack had a dedicated following when it aired on the Cartoon Network from 2001-04. Following a masterless samurai (Jack) who's thrown from the ancient past into the far-flung future, Samurai Jack is a story that faded away way before most were ready to let it go. The new series from IDW is set to fix that with all new stories set in the same universe and within Jack canon.
"Samurai Jack is an irresistible mix of high adventure, comedy and mythic storytelling," said series writer Jim Zub (Skullkickers) who will be joined by Andy Suriano (Character Designer on the original Samurai Jack television series) to lead Jack on his newest adventure!

Suriano's affinity for Jack will help shape his continuing adventure. He added, "returning to Samurai Jack is such a personal experience and labor of love for me. It's like stepping through a time portal back to characters I know as friends and a world that really launched my animation career."
Fans can also expect a very cool treat as the first story arc 'Ropes of Eons' will feature cover art by Samurai Jack creator Genndy Tartakovsky himself. As a fan of the show when it originally aired, I can't think of a better way to usher Jack into the world of comics.
Look for Samurai Jack to hit stands this October from Zub, Suriano and IDW.