To celebrate the upcoming San Diego Comic Con, Brutal Gamer has teamed up with high-end replica maker Project TriForce to give away one massive Gears of War goodie – a replica (limited edition) Golden Hammerburst II straight from the Locust armory.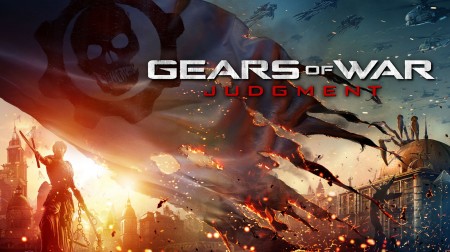 There's pretty much no doubt that this badboy would be the centerpiece of anybody's collection- gaming or otherwise.
Weighing in at a beastly 35lbs, the massive Golden Hammerburst II replica from Project TriForce is about three feet in length and 20″ high. This is a super-limited edition replica and only 100 pieces were made in the run, so having one in your possession calls for some serious bragging rights. Like everything else in their collection, TriForce has spared no expense with this recreation of the Locust's primary infantry weapon. The Golden Hammerburst II is an exact copy of the one that appears in the Gears of War games- and by exact, we mean exact.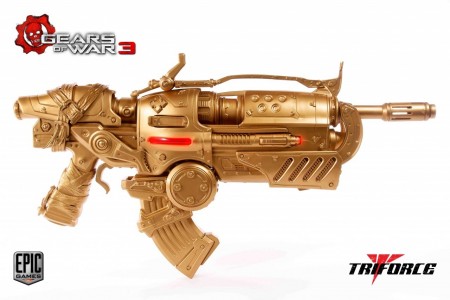 TriForce proudly presents the officially licensed Gears of War 3: Locust Hammerburst II Full Scale Replica Gold Edition, masterfully sculpted and painted by the artisans at TriForce. The end result is the most authentic representation of this weapon available on the market. The Locust Hammerburst II Full Scale Replica Gold Edition is hand-finished and hand-painted to precision quality. Intricately crafted and cast in polystone, it stands a massive 36″ in length, weighs in at 35 pounds, and features working LED effects! Own this authentic piece of videogame history as part of a Limited Edition of 100 pieces worldwide. – See more at: www.projecttriforce.com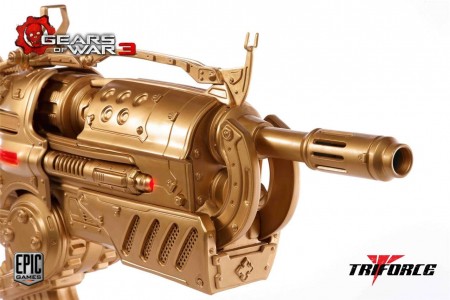 All of the company's high-end collectibles are actually made to the same specifications as the digital versions featured in the games that they're based on. Basically, when you hoist this monster replica up into the ready position, you can be sure it's the same size and weight that the ones used by the Locust (and claimed by the CoG) throughout Epic's acclaimed Gears of War series. Now that's cool.
What's even cooler is that one can be hanging on your wall (or wherever) courtesy of Project TriForce and Brutal Gamer. All you need to do is enter and this incredible prize, valued at $900 USD, can be yours. So… ready for some golden glory?
How to enter:

Entering a Brutal Gamer contest is easy. Just 'like' us and comment on this post on Facebook, follow us on Twitter @BrutalGamer and Tweet us with the hashtag #BrutalContest, or comment on this post in the comments section below any time between now and the contest end date/time.
You can enter as many times as you like, but only once per day, per entry type (BG.com, Twitter, or Facebook, which totals a possible three entries per day). Any double entries made on the same day via the same entry type will be discarded (but your original entry will still stand- we're cool like that).
Winners and contest details –
The Brutal Gamer/Project TriForce Golden Hammerburst giveaway starts right now and ends on July 24th 2013 at 11:59pm eastern standard (US) time.
The contest is open to all readers within the continental United States and Canada.
One (1) Grand Prize Winner will be chosen and a total of one (1) replica Golden Hammerburst will be given away courtesy of Project TriForce .
The winner will be chosen at random and will be notified shortly after the contest officially closes on July 24th 2013 at 11:59pm est.
Good luck!