AOC's Cinematic UltraWide Display can source stuff right from your Android smartphone, display two completely different things at once and it's on sale for a limited time.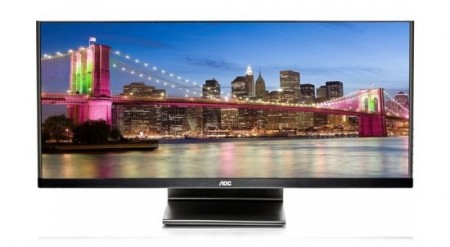 So this is pretty awesome; display tech company AOC has a dual display monitor on sale at a bunch of outlets right now. As the company points out, that's "$100 off the MSRP and up to $300 less than competitive displays".
It's certainly a cool piece of technology too as the display measures 29″ with a resolution of WFHD 2560×1080, sports a pair of 3 watt speakers (built in) and has multiple input options (DisplayPort, HDMI and DVI). The real magic comes in with the dual display functionality though.
Not only can you view content with a standard Picture-in-Picture setup, but you can also get some sweet Picture-by-Picture action going. Effectively, since this is a wide-screen unit, you can have some serious real estate devoted to a pair of things at the same time and not just a little box sitting to the bottom of your main image. Meaning you can watch a DVD or Blu-Ray on the left, while playing a game or working on something on your PC on the right. You can even mirror your Android smartphone on this monitor, which is pretty nifty. Effectively, it's almost the same as having a pair of monitors (and speakers) sitting on your desktop- just with way less clutter and wiring.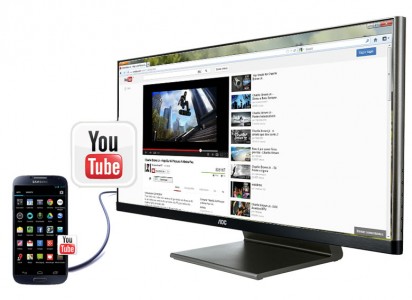 Here's your specifics on the functions:
Cinematic Experience-The panoramic Q2963PM display offers a 21:9 aspect ratio, which allows widescreen movies to be viewed without black bars on the top and bottom of the screen. The monitor's IPS panel also provides crisp and clear viewing from almost any angle. The Q2963PM features a Dynamic Contrast Ratio of 50,000,000:1 from viewing angles up to 178° both vertically and horizontally. Combined with 250 cd/m² brightness and a response time of 5 ms, the display is ideal for both cinema enthusiasts and office users.

Work Station Productivity-AOC's Screen+ software allows the Q2963PM's vast screen to be split into individual work areas, making it easy to multitask and view multiple documents simultaneously. The extra desktop real estate is perfect for comparing documents side by side or using multiple program windows. In the office, the monitor's built-in speakers will also help to reduce cable clutter, as no external audio set-up is required. The display is also 100 mm VESA compatible so that it can be mounted to the wall to save space and create a streamlined look.

Connectivity- The Q2963PM offers multiple connections so that Blu-ray players, computers and other signal sources can be connected simultaneously and displayed at a high resolution of 2560 x 1080 pixels. Additionally, an integrated MHL port allows Android users to connect compatible phones and tablets directly to the monitor to mirror content to the 29-inch UltaWide display while charging the mobile device at the same time.

Energy Saving- The Q2963PM is ENERGY STAR qualified, meaning it uses about 30 percent less energy than standard units. The energy-efficient monitor consumes only 26 watts when in full operation and 0.5 watt in standby mode. It also comes with Eco Mode and e-Saver software to help save energy, and is free of harmful arsenic, mercury and BFR/PVC laminates that can be found in other monitors.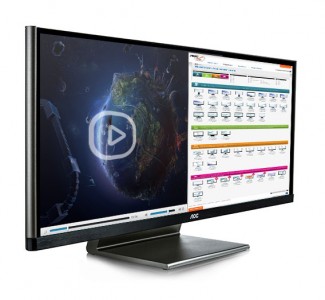 And as we said, this is a deal right now as the AOC UltraWide Display (model Q2963PM) is now $399 USD (a c-note off the usual tag) at select retailers. You might want to hustle if you want one though as you can snag one at Best Buy, NewEgg, Tiger Direct and others right now through the 30th; that's when this deal runs dry.