A rogue-like with added voodoo.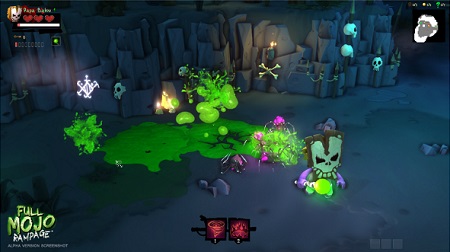 The Leftfield Collection at this year's Rezzed show is full of weird and wonderful delights.  One such delight is voodoo based rogue-like Full Mojo Rampage.  The game is currently being developed by Over The Top Games, a small studio consisting of just six people.
Full Mojo Rampage is played from a top-down, isometric perspective.  You have to navigate a series of procedurally generated dungeons and zones, completing a certain goal in each.  Each actual stage as you progress looks different, taking you from an underground dungeon somewhat reminiscent of games like Zelda, to a cemetary filled with giant jumping ghosts that try to crush you.
Before starting the game, you need to pick a parent 'Loa' which defines your skills and feats and effectively acts as a class.  You can also use pins to modify your abilities.  Spells are assigned to certain buttons, and any items you pick up along the way are automatically assigned to number hot keys.  Enemies you fight are varied.  Some that are pretty easy to take down, such as bomb headed enemies that cause you a lot of damage if you kill them too close to you.  Then there are much bigger enemies that can kill you very quickly, especially if you run into two or more in the same area.
The game's simple to pick up, and the random level generation means you're never playing the same game twice, which will add a lot of replayability to it.
You can find out more about Full Mojo Rampage and pre-order at the games website.