"No ads, no gimmicks" promises Zen Studios- this one's just plain old free.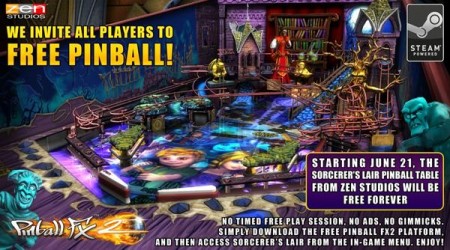 Behold! The flipper infused, chrome plated Scorcerer's Lair table is free to play for all Pinball FX2 PC players!
Zen has just announced that the table shall be free going forward for the Steam version of its uber-popular pinball sim Pinball FX2. All you need do is download the FX2 platform onto your PC from Steam (if you don't have it already) and you're good to go to grab your free table on the 21st of this month (this Friday). Now, you will need to download Sorcerer's Lair separately as it's not included in the main game download, but it's a free table – so no complaining.
Also cool this week is that the Paranormal, Fantastic Four and Marvel Civil War tables are all just available and are priced at $2.99 USD. If you're looking for something else, don't worry because plenty more are on the way 'soon'.
We've played and reviewed a load of Zen's pinball tables here at Brutal Gamer and, to be 100% honest with you- they're pretty much all good and great fun to play. So if you're into pinball (and even if you're not) you might want to mark your calendar for June 21st and get to flipping.